Heroes of the Storm releases Love is in the Air Anub'arak skin, promo video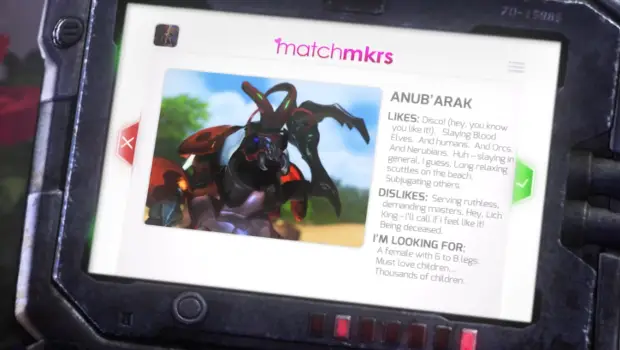 Heroes of the Storm's previously announced Love is in the Air-themed Love Bug Anub'arak skin is now available for purchase. If you've yet to purchase Anub'arak himself, there's also a new Love is in the Air bundle which includes both the skin and the character. The skin alone is being sold for $9.99 USD and you can acquire the bundle for $14.98 USD.
However, the highlight of this new release is the accompanying promotional video. While other denizens of the Nexus participate in Love is in the Air festivities, StarCraft II's Zagara is still looking for the love of her life. Skimming online dating profiles, she finds herself all aflutter over Warcraft's Anub'arak: a match only possible in Heroes of the Storm.