Overwatch teases PAX East reveals on Twitter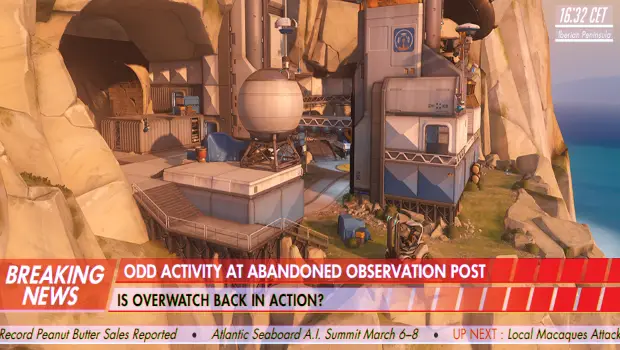 The official Blizzard Twitter account for Overwatch (@PlayOverwatch) tweeted out a very interesting picture this morning. We already know that Overwatch will be featured at PAX East, but what other information can be gleaned from this?
[BREAKING] Strange lights sighted over decommissioned Watchpoint. Just another weather balloon, officials claim. pic.twitter.com/bjE35ZDrrc

— Overwatch (@PlayOverwatch) February 16, 2015
The verticality of the layout and the various paths looks very akin to a Team Fortress 2 level, hinting that this will likely be a new map playable at PAX. Furthermore, the line running through the middle of the structures and the yellow circle in the middle remind me very strongly of a Payload objective. I'd bet half my World of Warcraft gold that this represents one of the bomb delivery points. The ticker has some hints for us as well. "Atlantic A.I. Summit March 6-8" is clearly a PAX East reference, but the AI portion is baffling. Perhaps we'll see some bots for players to match their wits against? This would make sense in a demo environment, to provide a more seamless experience.
As for the peanut butter and the macaques, your guess is as good as mine. Feel free to speculate in the comments.