WoW
Feb 24, 2015 1:00 pm CT
Get your Perma-Pepe in Patch 6.1 with new achievement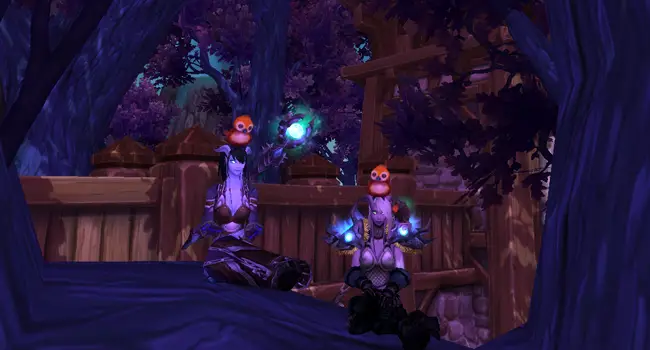 If you like Pepe, the overly affectionate garrison bird that will happily ride around on your head, there's good news for you in patch 6.1. You can now call Pepe from anywhere in the world with the Trans-Dimensional Bird Whistle, a reward for the new achievement What A Strange, Interdimensional Trip It's Been. To complete the achievement, all you have to do is successfully kill some of Draenor's biggest baddies with your birdie pal along for the ride.
The list of bosses includes the final boss from each of Draenor's dungeons, every raid boss in Highmaul, every raid boss in Blackrock Foundry, and all three world bosses — Tarlna the Ageless, Drov the Ruiner, and Rukhmar. And while this might initially seem like a simple enough task, remember that clicking Pepe gives you an hour-long buff, but that buff does not last through death. In other words, wiping is not recommended. Pepe does not immediately respawn in your garrison after you die, either, which makes this achievement more than a little challenging to complete.
However, the reward is a toy for your Toy Box that will allow you to apply the 60 minute Pepe buff from anywhere in the world, which means your little buddy can be at your side every second of every day if you really want him to be. If you haven't found Pepe by now, you might want to keep an eye out for him. He spawns in one of three different locations on both Alliance and Horde, depending on the level of your garrison.
Alliance
Level 1: He's in the tree right beside Lieutenant Thorn's tent — the tent with your mission table.
Level 2: In the large tree right behind the flight master, the one with the small rocky hill next to it.
Level 3: Pepe has relocated to the tree across the way from the Level 2 tree — across the path from the flight master, instead of behind him.
Horde
Level 1: To the east of your garrison — he's on the outside of the fortification wall.
Level 2: In a tree next to your Town Hall, behind your flight master (along the path to your Fishing Shack and Herb Garden).
Level 3: In a tree right in front of your Town Hall, across the path from your Garrison Cache.
To get Pepe, simply click on him. This might sound easy, but depending on his location it'll require some jumping, mounting up, climbing, or other creative thinking to get close enough to click. Of course once you've finished the achievement, you can just use your handy new bird whistle to call Pepe to you, and forgo the jumping altogether. Rejoice! And now that we've finally got a more permanent version of Pepe to tag along in game, maybe if we ask nicely, Blizzard will give us a plush version of the bird as well. I'm keeping my fingers crossed!