WoW
Feb 24, 2015 12:00 pm CT
Bosses in 5 seconds: Blackrock Foundry LFR – The Black Forge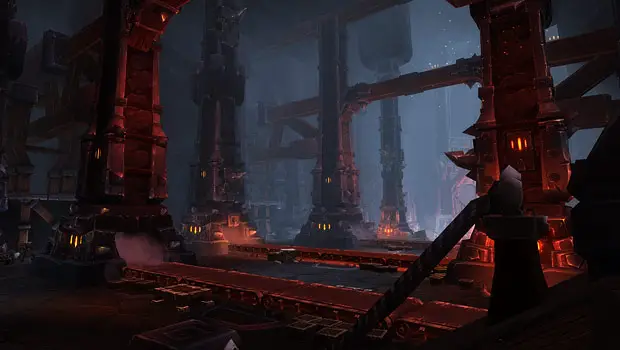 The second wing of Blackrock Foundry LFR, The Black Forge, opens up today. It consists of 3 bosses: Hans'gar and Franzok, Flamebender Ka'graz, and Kromog. Our bosses in 5 seconds series focuses on the core points you need to know going into these fights. Last week we covered wing 1, The Slagworks. Keep in mind that you'll need a minimum item level of 635 to queue for Blackrock Foundry LFR.

Hans'gar and Franzok have a shared health pool, so it is best to tank them on top of each other to maximize cleave damage. Periodically, one of the bosses will leave and activate environmental hazards.
When Hans'gar leaps out of the encounter area, he will activate the 5 conveyor belts in the room and Searing Plates. Avoid the Searing Plates by moving between belts. The plates move slowly and are easily avoidable.
When Franzok leaps out of the encounter area, he will activate the Stamping Presses which crash down from the ceiling. The areas about to be hit light up a couple of seconds before it happens. You cannot stand in the small area between two stamps or else you'll get hit by both.
During the last 15% of the fight, both bosses will be present but the conveyor belts will keep moving and Stamping Presses will be active.
This fight is all about dodging the Searing Plates and Stamping Presses. If you find yourself having motion sickness on the fight, see this post for some tips.


The next wing (Iron Assembly) is due to open on March 10.