Top 4 finalist decks from ESL Legendary series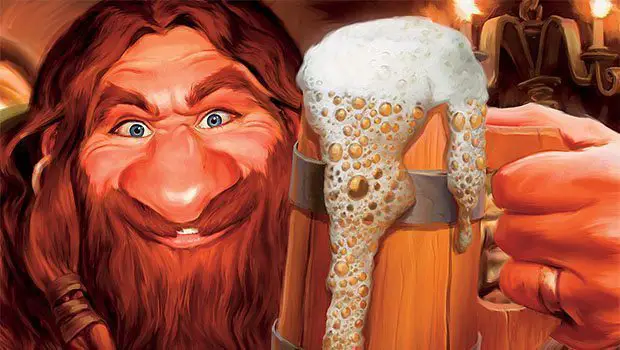 The Hearthstone ESL Legendary Series season 1 was held last month and culminated into an exciting finals finish last weekend.
The stakes?
It starts with a $20000 prize pool. $8000 goes to the winner, who also gets a spot into IEM Katowice. Each person brings 3 decks. They predetermine the order in which they play those decks without knowing what the opponent is using. If the matches go into game 4 or 5, they can reuse any of the decks. This all culminates into a top 8 LAN tournament hosted in Burbank, California.
Here are the deck lists of the top 4 players in the finals.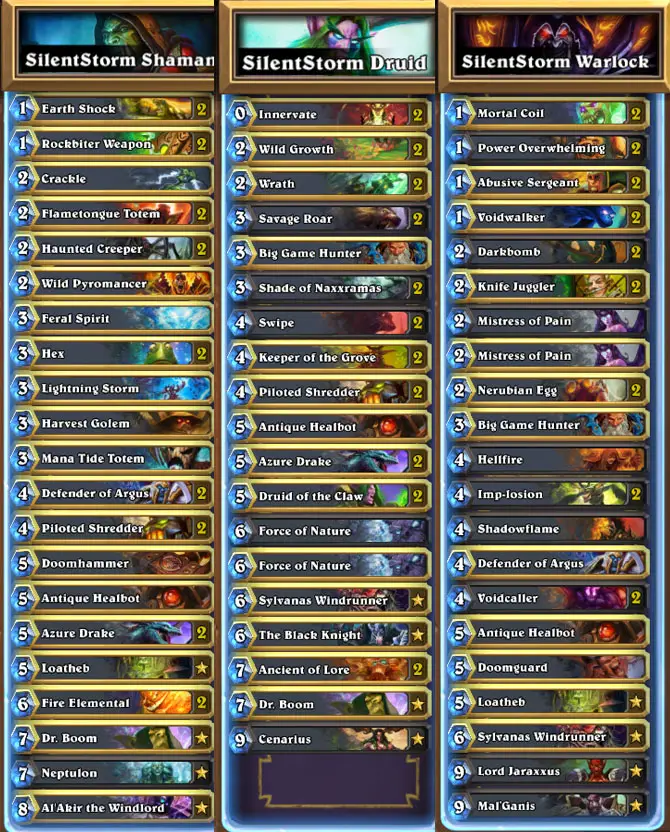 SilentStorm brought Shaman, Warlock, and Druid with him into the finals. Ramp Druid has so many responses here and victory conditions. If Savage Roar and Force of Nature get Loatheb'd for a turn, Cenarius and Dr. Boom can be played instead. What's that? A pair of taunted Molten Giants are in the way? Hmm, a Big Game Hunter or a suicidal Sylvanas into their giants can solve that quite easily. Zoo Warlock also makes an appearance here (and let the boos commence). The shaman deck SilentStorm brings isn't quite the same as the Mech Shaman decks that have been periodically spotted around the ladder.
Congratulations to SilentStorm for the win! (Go Canada!)
(3-1 vs Darkwonyx)
(3-1 vs Chakki)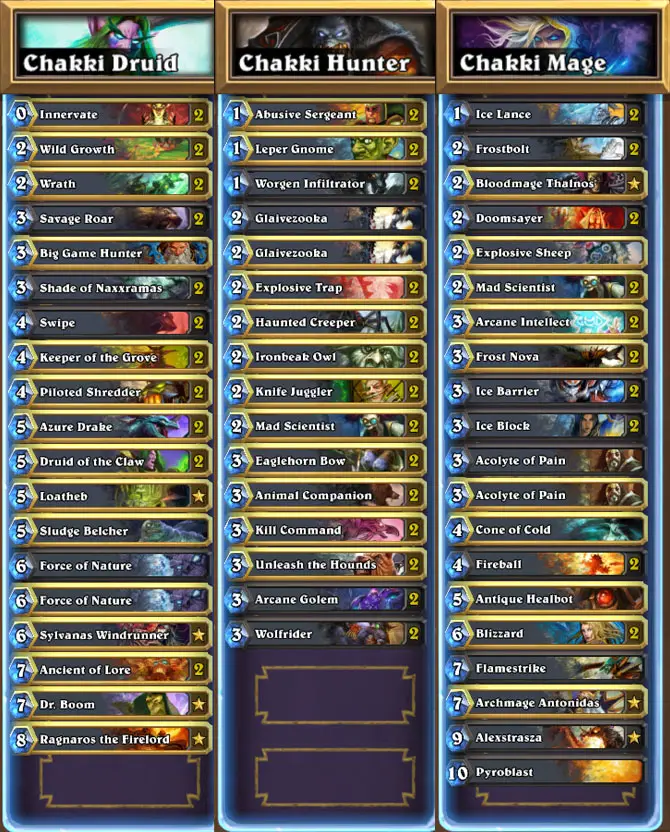 Chakki's hunter deck is just disgusting at the rate at which it can pump out creatures. It almost doesn't matter what minions he gets since they're all so cheap. This is the kind of deck you play when you're ready to go all in against your opponent's face. Chakki decided to bring in Freeze Mage and not Mech Mage as many of the other finalists used. Lastly, Chakki's druid is the standard issue ramp druid that's been updated for the current meta. If Savage Roar and Force of Nature don't win, Dr. Boom and Ragnaros will finish anyone off.
(3-2 vs Zalae)
(1-3 vs SilentStorm)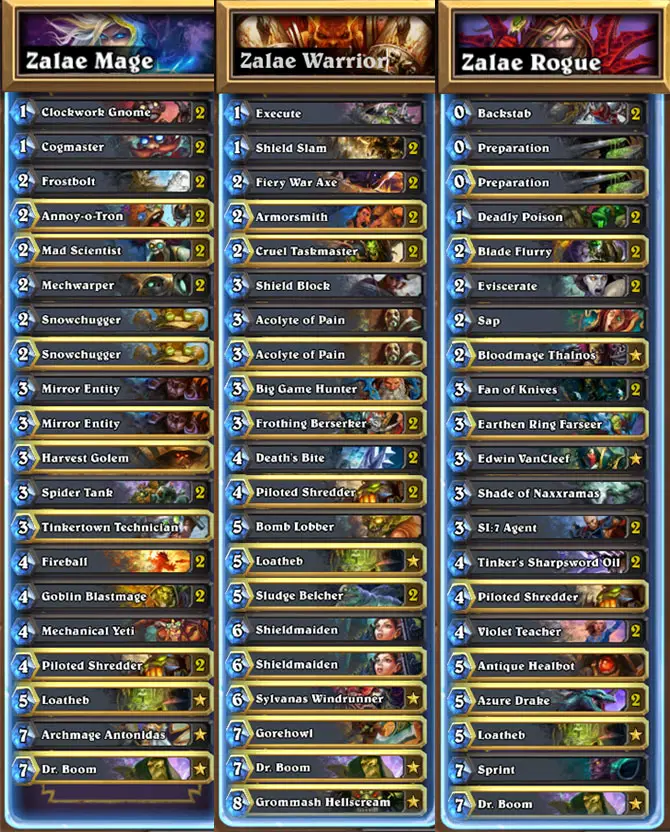 Zalae chose to bring in Warrior, Oil Rogue, and Mech Mage. The pair of Frothing Berserkers do not appear to be standard issue among Control Warrior decks these days. However, note the single execute which cuts down on some of the capabilities of removing threats. No Baron Geddon or Alexstrasza either. Of course, this wouldn't be much of a finals list without at least one rogue deck appearance.
(2-3 vs Chakki)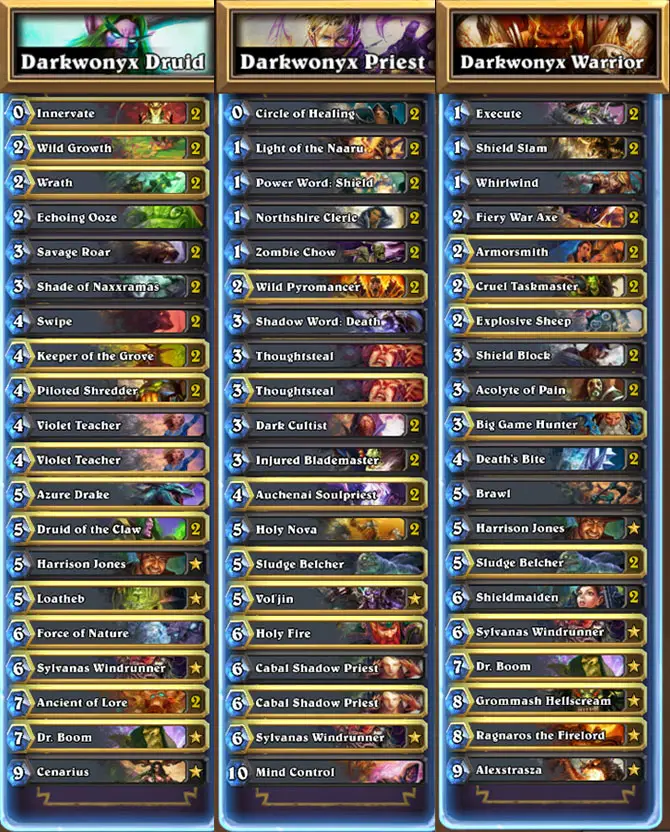 DarkWonyx put together the most expensive warrior deck listed in the top 4. Unlike Zalae's list, it does feature Alexstrasza and Harrison Jones (great against other rogue, paladin, warrior, and hunter decks). Interesting choice in the priest list behind Light of the Naaru which is only now beginning to see more inclusion. It plays well with Northshire Cleric and Auchenai Soulpriest. Interestingly enough, it doesn't feature some of the other staple heavy hitters like Dr. Boom, Ragnaros, or Baron Geddon as finishers. Lastly, Darkwonyx's druid list runs the token strategy with Violet Teachers and choosing to overwhelm the opponent instead of Chakki and SilentStorm's ramp druid lists.
(1-3 vs SilentStorm)
Overall top 8 breakdown
Druid: 6
Hunter: 3
Mage: 4
Rogue: 3
Shaman: 3
Paladin: 0
Priest: 1
Warrior: 3
Warlock: 1
Looking forward to IEM Katowice on March 12th! SilentStorm gets an automatic berth into the round of 16 section of the tournament for winning the Legendary series.