WoW
Mar 19, 2015 6:00 pm CT
New Warlords short story: The Code of Rule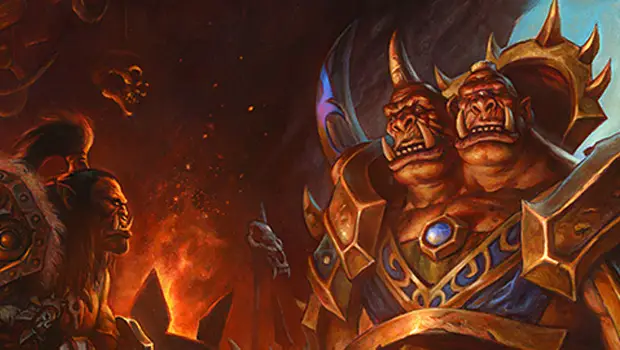 A new short story has been released on the official website. The Code of Rule, by Ryan Quinn, gives us one of those chunks of lore we were missing from the development of Warlords of Draenor's story — how exactly the ogres of Highmaul allied with the Iron Horde in the first place. Grommash Hellscream already has a sizable reason for wanting vengeance against the ogre empire, but he offers them a choice, or rather an open-ended request. And since the ogre empire is clearly beginning to see its influence and dominance over Draenor wane, and Highmaul itself is beginning to crumble, Imperator Mar'gok decides to fulfill that request and travel to the Warsong stronghold.
I really like the ogres as they've been presented in Warlords, so any additional ogre lore is just fine with me. Code of Rule manages to neatly explain and flesh out just what has been happening to the ogres over the years, as well as flesh out the impressive personality of Highmaul's Imperator in just five pages. There's a little more expansion in terms of how ogre magic works, exactly, and what those stones Mar'gok is so gleefully fiddling with during his encounter in Highmaul are actually used for. But at the same time, there's still plenty of mystery that is left a mystery — where did the stones originally come from? How did the ogres learn to harness their power in the first place? Maybe that will be revealed in due time as well.
But the only lament I have about this particular short story is this: It was beautifully written, it covers an amazing amount of material, it clarifies a lot of what we really wanted to know about Highmaul, and it explains that strange relationship between Hellscream, Mar'gok, and even Kargath Bladefist. It makes the Kargath encounter in Highmaul all the more interesting to participate in, and it thoroughly explains Ko'ragh the Breaker on top of it all. Given all of this extraordinary information it fills in, given all the lore that is present here, why on earth wasn't this story released when Highmaul was first introduced and that information and lore would be the most relevant? While I was immediately intrigued and drawn in by the story, the fact of the matter was that in the end, it matters little, now, because the majority of the characters involved in this tale are gone — thanks to our actions in a raid that the majority of players have already moved beyond. This does not, however, make the story any less valuable or worth reading, it's a fantastic tale. If you're interested in learning more about this particular facet of Draenor lore, check out The Code of Rule on Blizzard's site.