The Queue: Elftown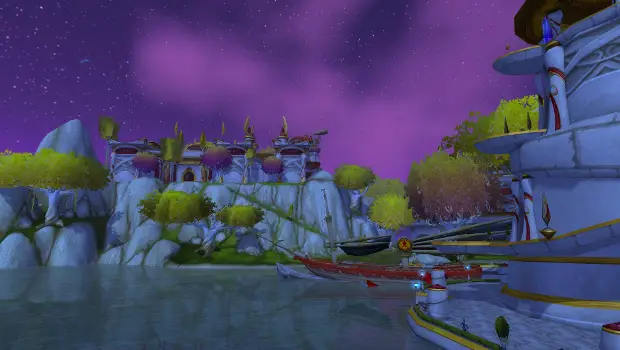 Oh, Isle of Quel'Danas. I still miss you fondly.
---
JPEC07 ASKED:
After a guild meeting last night, we decided that it was time to take a break from raiding in WoW, and for many of us, a break from WoW in general (at least until the end of the semester). Have you ever taken time off from WoW? How have you occupied yourself during that time?
I've taken breaks. Usually not very long ones — it is my job to write about WoW, so I always have to find new ways to enjoy it — but breaks certainly have happened. How to occupy the time? Do anything else. Seriously. Play another game. Read some books. Marathon some TV shows you haven't seen. The weather is slowly getting warmer here in America, so try gardening. Even if you don't have a yard, or it's still too cold where you are, you can buy a small standing greenhouse and grow herbs in it. That won't take up all of the time you likely spent in WoW, but it's a hobby, right?
Admittedly, the only reason I bring up gardening is because I can't wait for it to get warm enough to start mine. I love gardening, but I'm in Wisconsin. I'm lucky if the growing season lasts from May to August. I love Milwaukee, but the one thing that makes me consider leaving is a warmer climate for gardening.
---
@BRUMFONDL ASKED:
Is Fox actually able to play anything other than a Blood Elf?
We're going to find out! If you guys make us play dwarves and he bursts into flame, know that it's your fault.
---
@THALASSARCHE ASKED:
What's your favorite title to set on your freshly-rolled level one alts?
Honestly? I forget titles exist. I used to feel they were the ultimate prestige but now there are tons of them — and they're either obnoxiously long strings of words or they're gags. I don't think I'm being the grumpy veteran here, I don't mind that there are lots of titles, but I haven't seen one I've liked since Wrath of the Lich King. Therefore, I rarely think about them and almost never set them on my alts.
I just logged onto a low level character to see if I had set one. I hadn't. I looked at my list of available titles and saw "Conservationist" — quotes included — and had no idea where it even came from. I had to look it up. Exalted with the Steamwheedle Preservation Society.
I hate goblins.
My all-time favorite title is -of the Shattered Sun. You bought it with gold on the Isle of Quel'danas. I loved that content, I loved the title, I loved the tabard. Still love it. Now and forever.
---
@MIGGYLOL ASKED:
Is there anything in particular you're hoping for in the movie, from Big Important Lore to character quirks?
What I want out of the Warcraft movie actually has nothing to do with Warcraft itself. I'm excited about the movie's cast. I love Travis Fimmel in Vikings, so if the Warcraft movie is just him being a badass in battle for two hours, I'd be good with that.
---
@MEDROS ASKED:
Do you think 6.2 is far from the PTR?
I expect (hope) patch 6.2 will hit the PTR not long after the WoW Token patch goes live.
---
@HALL_IN_FAVOR ASKED:
Any tips on how to approach asking someone who doesn't play video games, or understand high fantasy, to try out WoW?
I've always felt being straightforward is the best approach. If you want that person to play a game with you, tell them you'd really appreciate it if they'd try it out. Trying to bait them into it or anything like that isn't going to be very convincing. If it's someone you care about, just tell them you'd enjoy it if you played together a bit. And if they do it and they like it, awesome. If they really don't want to do it, or they try it and don't like it, pressuring them into playing it further is only going to make them unhappy.
---
@TIAGO_HOINACK
When you guys choose the times to do the podcasts and the like, do you guys consider different timezones? I ask this because I live in Brazil and the podcast usualy starts around midnight over here. Anyways nice work & keep up!
Our biggest consideration is usually our own availability. That is, when can our crew get together and record? We are, ourselves, spread across a bunch of timezones, so scheduling can be tough. For example, the show we're starting on Twitch this week will be happening 2 p.m. Central on Thursdays. That's a weird time — most of our North American audience will be at work or school. But it's the only time we could get five people together at once to do it. By making our podcasts available for download, and putting archives of our streams on Youtube, people can still listen/watch even if they can't make it to the live show.