WoW
Apr 13, 2015 9:31 pm CT
Patch 6.2 PTR: Access to Tanaan Jungle will be gated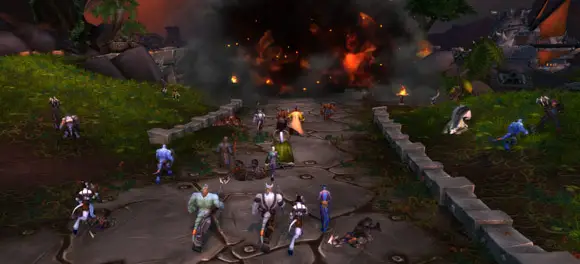 Do you want to enjoy the spoils of Tanaan Jungle in patch 6.2? Then I hope you have a level 3 garrison along with a shipyard (the new building that's coming in this patch). Without this, you won't be able to get into the level 100 Tanaan Jungle.
From the patch notes:
Access to the zone is unlocked by constructing a Shipyard (available to characters with a level 3 Garrison). To begin your journey, report to your Garrison and accept the "War Council" quest.
New daily quests are available in Tanaan to acquire shipyard resources and more.
Open-world questing with rare creatures and hidden treasures scattered throughout the zone.
More information will be added as development continues.
This is an extremely interesting change of pace for Blizzard. They've previously moved away from gating content in any meaningful way — with this patch, however, this will now be a clear series of quests and gates you must get through in order to experience new content. It's even more interesting when you consider that Tanaan Jungle is a highlight of this patch.