WoW
Apr 13, 2015 11:26 pm CT
Patch 6.2: Timewalker dungeons lower your item level to run old content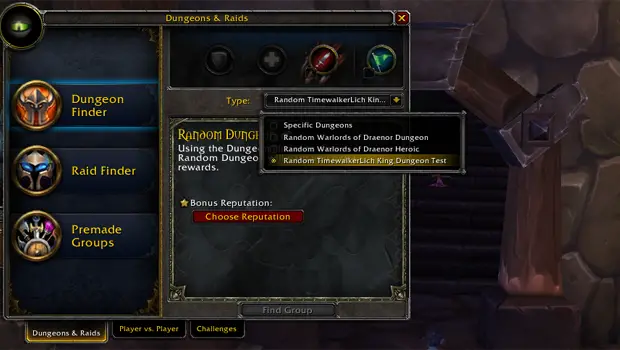 Timewalker dungeons have appeared on the patch 6.2 PTR. The feature has not been mentioned in the patch notes or any patch 6.2 preview so far. However, there's now a new item in the dungeon finder menu currently labeled Random Timewalker Lich King Dungeon Test. Queueing for a Timewalker Dungeon appears to work without issue. When you enter such a dungeon, your ilevel is reduced to match the level of the content. Upon entering Halls of Stone (of course it was Halls of Stone), my ilevel was reduced to 175.
If Timewalker Dungeons are implemented for patch 6.2, every dungeon in the game would, in essence, become a Caverns of Time dungeon. Rather than max level players being restricted to just one expansion's pool of dungeons, it could potentially open every dungeon in the game to max level players. Will the experience be the same as if you were running those dungeons at the appropriate level? Not likely, but it could still inject variety back into the dungeon lineup, and maybe players who skipped those dungeons at the appropriate level will get a chance to see them for the first time.
We have to wonder what the reward structure will look like, though. Will bosses drop max level items? Will you receive max level goodies at the end? Yes, the ability to revisit those dungeons is nice, but this is an MMO — there must be a carrot on the end of that stick  or players will find better ways to spend their time.