Skyrim mod brings Sulfuras to Tamriel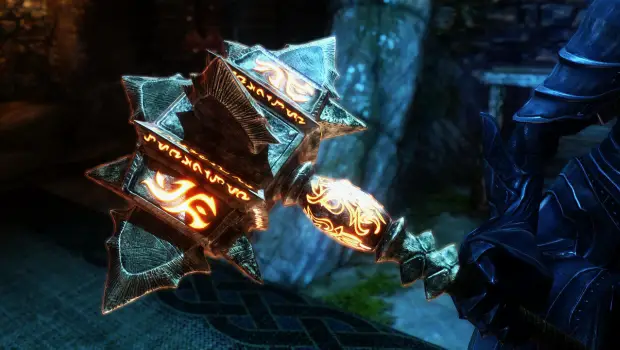 All right.  So you took our advice and brought Deathwing into your version of The Elder Scrolls V: Skyrim, which was naturally not the best idea because it's freaking Deathwing.  There was an entire expansion devoted to the idea that you don't want him around!  Now you need something to get rid of him.  Maybe a hammer.  Maybe a really great hammer, the sort of thing that gets whispered about and remembered years after the fact.  Maybe you want to wield the hand of Ragnaros against Deathwing and have it be super-relevant.  And now you can!
The same modder who brought Deathwing to the game has now brought Sulfuras, the Reclaimed Hand to the game for players to wield in battle.  Like the previous mod, this was assembled with 3ds Max, Zbrush, and Photoshop, resulting in a big glowing flame hammer that will lay waste to your modded-in Deathwing or anything else that needs to be hit upside the head with a big old flame hammer.  You can download the mod now from NexusMods.