WoW
Apr 19, 2015 8:00 pm CT
Patch 6.2: New Menagerie Toy & Pet vendors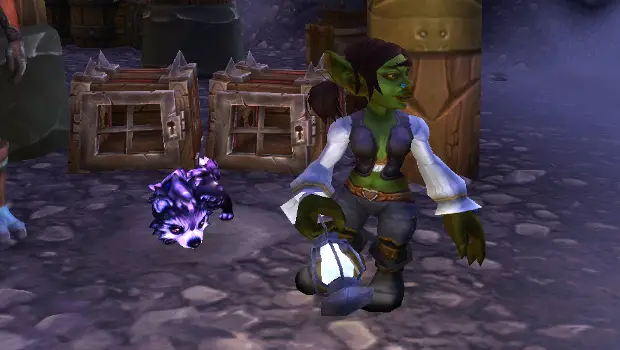 There is a new pet vendor in town, lurking over near your Menagerie in patch 6.2. You don't even have to complete the quest to open up your Menagerie for them to set up shop. All you need is a level 3 garrison, and Giada Goldenleash or Tiffy Trapspring will come to visit, bearing new, cool stuff for you to throw your hard-earned Pet Charms at. Three new pet-related toys and four new battle pets are up for grabs, provided you've got enough Charms.
The new pets cost between 50 and 200 Charms. The two cheapest at 50 pet charms each are the Bloodthorn Hatchling and the Dusty Sporewing. The Sporewing's moves are identical to the Skywisp Moth's from the Timeless Isle. It's also the first moth in a light pink skin. The Bloodthorn Hatchling shares moves with the Mossbite Skitterer, Thicket Skitterer, and Icespine Hatchling, but its skin is a striking red instead of muted colors like the others.
The Glowing Sporebat is slightly more expensive at 100 Pet Charms. It shares moves with the Tiny Sporebat, but uses the updated Sporebat skin. The most expensive at 200 Pet Charms is the Lost Netherpup, which has a unique moveset and a swirling purple skin on an adorable little puppy.
More expensive than all of these new pets combined is the new Magic Pet Mirror toy, which costs 500 Pet Charms. It allows you to take on the appearance of any pet that battles and isn't companion-only, meaning you can choose to look like a pet like Gusting Grimoire but not one like K'ute.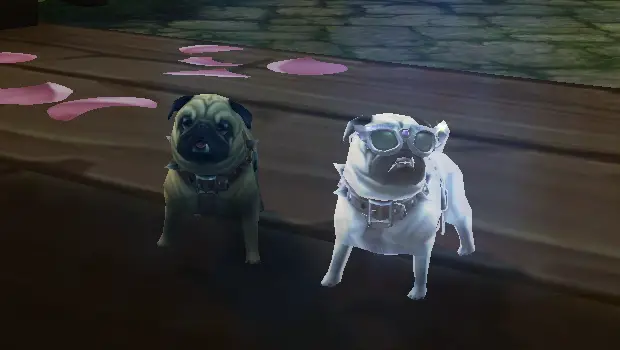 Note that pet enhancements, like the Lil Starlet glasses Bertha has on above, did not transfer to my character's slightly less styling Perky Pug facsimile. As soon as you cast or attack something, the illusion is lost. It has an hour-long cooldown so use it wisely.
The other new toys are not nearly as expensive. The Spirit Wand toy goes for 100 Pet Charms. It turns your pet into a transparent ghostly pet. This effect is also modeled by my helpful Perky Pug above. Lastly is the 50 Charm Indestructible Bone, which allows you to throw a bone to your Perky Pug to carry around in its mouth. Currently this overwrites the other pug hats, but I've been told that this is in error, and soon you should be able to use your bone and Lil Starlet glasses at the same time.
If you don't have 1,050 Pet Charms to purchase all of these shiny things just now, this patch just hit the PTR so you've got a little time to stock up before it arrives. Good luck, tamers.