WoW
Apr 27, 2015 7:00 pm CT
Children's Week 2015 offers a few new rewards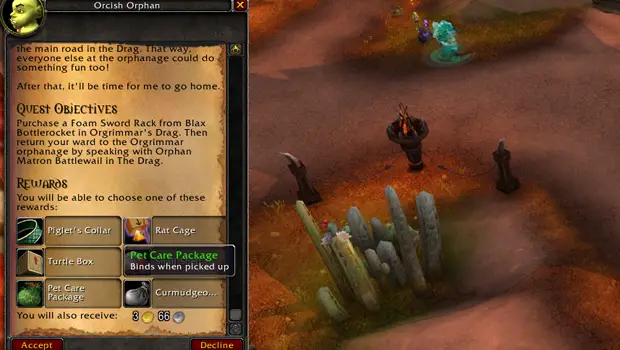 Children's Week has begun in Azeroth, and this year has a few new rewards for players. Sadly, there are no new pets on the table, but there's plenty to be had for your existing pets — along with the usual pet reward choices, this year's Children's Week quests also offer the new Pet Care Package. This package can contain a Flawless Battle Stone, size-changing toys, pet XP boosting treats, and of course, more adorable outfits for your Perky Pug. I went ahead and completed all three chains, and each package I got contained that valuable Battle Stone, suggesting that it may be a guaranteed reward from the bag.
In addition to the Pet Care Packages, Craggle Wobbletop and Blax Bottlerocket are now offering Green Balloon toys for sale. This toy counts towards toy collecting achievements, and can only be purchased during Children's Week, so collectors may want to get a move on and pick this up before it's gone. Oddly enough, the tooltip for the balloon seems to indicate the item is only useable during Children's Week, which seems strange for a item that just summons a balloon. We'll have to see if that holds true once the holiday is over.
As a reminder, if you're still looking for those Children's Week pets, you can still only choose one pet reward per character. However, pets are now account-wide, which means you can pick different pets on your alts, and easily nab all ten pets if you have enough alts that are at an appropriate level to complete the quests. Children's Week runs until next Monday, May 4, so you've got a full week to escort your orphans and pick up any achievements you may have been missing towards the What a Long, Strange Trip It's Been achievement for the Violet Proto-drake reward. And before you ask, no, there have been no changes made to School of Hard Knocks. Sorry achievement hunters, you're just going to have to slug this one out.