WoW
May 19, 2015 2:00 pm CT
Blizzard launches Selfie Scavenger Hunt sweepstakes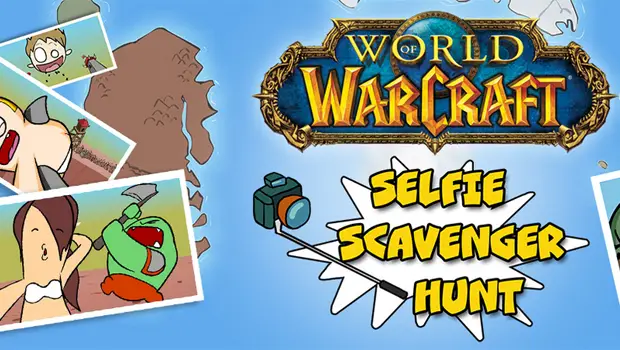 Blizzard has launched a new contest for enterprising in-game photographers — the Selfie Scavenger Hunt. To enter, players must recreate a selfie that has been posted on the sweepstakes website to the best of their ability. Each week, a new image will be posted to replicate. For those players who have yet to get their hands on a S.E.L.F.I.E. camera via garrison missions, don't despair, screenshots will work just as well, as long as you're in the right location, according to a blue post by Bashiok:
Per the rules and posted "How to take a screenshot…" section of the site, use of the S.E.L.F.I.E. camera is encouraged but in no way required. A normal screenshot works too. :)
The submission requirements were also further clarified as well — character should match the location and angle of the camera as best they can. Entries that are clearly not trying to replicate the weekly image will be disqualified. The contest runs until June 22, 2015 — but you'll want to make sure you're entering at least once a week, because there are weekly prizes to give away, as well as a Grand Prize to be handed out at the end of the sweepstakes.
What kind of prizes? Weekly prizes for the Selfie Scavenger Hunt include an iPhone 6, World of Warcraft messenger bags, the World of Warcraft Ultimate Visual Guide, Battle.net balance codes, and World of Warcraft water bottles. The Grand Prize is a trip for two to BlizzCon 2015 that includes airfare and lodging as well as tickets to the convention. Entering every week increases your chances of nabbing that big grand prize. For more information, including this week's location of choice and official rules, head to the official sweepstakes entry page.