Soldier 76, deceased Overwatch hero Jack Morrison?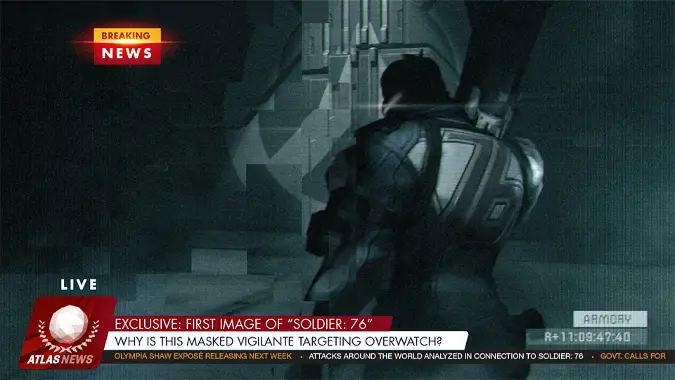 There are a few seedy sides of the internet that give rise to wild conspiracy theories. Apparently formerly respected journalist Olympia Shaw has fallen down that rabbit hole, because her most recent editorial gives rise to an absolutely cockamamie theory. Her theory is that the masked vigilante who has been robbing and terrorizing the old Overwatch sites, Soldier 76, is the same person as decorated war hero Jack Morrison. Aside from the preposterous, slanderous nature of this accusation, that such an upstanding soldier devoted to Overwatch would turn so deeply against it, Jack Morrison has been dead for six years.
"Or has he?" asks the reporter, who is surely packing her desk at this point.
Much of Olympia Shaw's editorial focuses on the history we all already know. After rising from humble roots, Morrison became an "enhanced" soldier, and was deployed during the Omnic Crisis, later joining Overwatch with another soldier like him, Gabriel Reyes. Morrison, as the fresh-faced symbol of Overwatch, was soon promoted over the senior Reyes, driving a wedge between the two brothers in arms. This rift grew even larger as the post-Omnic Crisis accusations of corruption and impropriety rocked Overwatch, during which the Swiss headquarters of the organization was obliterated with both Morrison and Reyes inside. Though we knew at the time it was a deep loss for all, the deeper loss would come later. Without Morrison to keep the idealism of Overwatch alive, it crumbled and was disbanded.
We all know what happened six years ago, but in murky unsubstantiated claims from 'anonymous sources,' the editorial goes on to besmirch the good names of both Reyes and Morrison, with the brunt of her attack aimed squarely at Morrison. She surmises that, because Soldier 76 has a similar height and build to Morrison in his last public appearance six years ago (again, before his confirmed and untimely death), they must be the same person. I'm sure she'll scour the runway next Fashion Week for another person of similar appearance to slander. The rest of her ravings are along the same ridiculous lines, and you can read more in her editorial if you'd like a laugh. I'd suggest you do so soon, before her bosses realize what garbage they've been paying her to produce and yank it off the internet.