WoW
Aug 9, 2015 9:55 am CT
World of Warcraft: Legion Gamescom developer chat liveblog
In just a few short minutes — at 10 a.m. Central — World of Warcraft developers will be streaming a live chat about the newly announced expansion, Legion. You can watch it live, but if you're unable, we will be liveblogging the event right here. Even if you can watch live, feel free to discuss the event in the comments below!
Thursday's attempt at a liveblog didn't go so well for us — the sheer load put on our site during the event took it down hard — but we're testing another method today and expect hype levels to be a bit lower on a Sunday morning. To view new updates, you will need to refresh the page, but we ask that you wait a minute or two between doing so. It's unlikely our updates will be more frequent than that, anyway. The most recent update will be at the bottom of the post. Please note that we will be paraphrasing as necessary. Don't take anything written here as a verbatim quote from a Blizzard developer unless specifically stated.
9:54 a.m. Placeholder update! Have a tweet from Alex Afrasiabi:
Lots of fantastic lore questions for Legion coming in. We're not ignoring you, but we can't answer here. Be patient, beta is coming soon!

— Alex Afrasiabi (@Abrosiabi) August 8, 2015
10:00 a.m. The stream is getting started. Frodan and Soe (also known as Tracer In Real Life) are introducing the day's events. Not only the dev chat, but recaps of contests and so forth. We know which of those things we care about, right?
10:05 a.m. The following contest was just announced live on stream. You can win a prop from the Warcraft movie!  
Share a photo of your best battle stance & tag #WarcraftMovie #BlizzGC2015 for a chance to win a prop from the film! pic.twitter.com/3Aq7gZBt5t — World of Warcraft (@Warcraft) August 9, 2015

10:07 a.m. Tom Chilton, Ion Hazzikostas, and Alex Afrasiabi have now joined Frodan and Soe. They're wearing matching Illidari shirts. "There's only four in the world right now!" Discussing the mood of the team in advance of the announcement. "Nervous anticipation" says Chilton. They've been actively working on Legion for the last year to year and a half.
10:09 a.m. Soe, who introduced the Legion event, didn't know what the expansion was while she was introducing it. She learned the same time we did. Chilton asked her how to say "demon hunter" in German before taking the stage and they describe her "hooooold on" moment. Now they're playing a recap reel.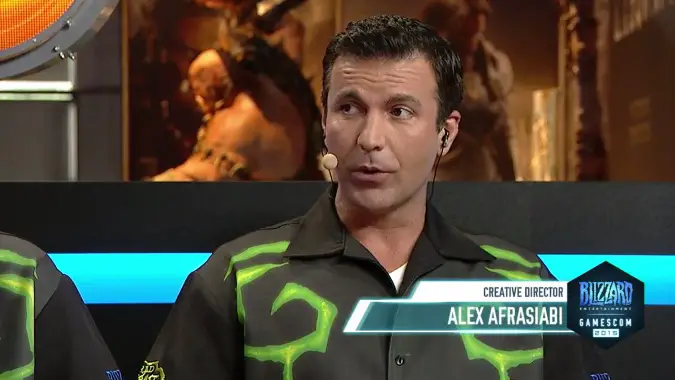 10:12 a.m. First question is about the lore. Are we still in an alternate universe in Legion or back in the main universe? Afrasiabi says it's our universe. Archimonde sent alternate universe Gul'dan to our Azeroth. One of the big questions of Legion is why these people want our world destroyed to badly. Illidan is a "big part" of those places. Will Illidan be a good guy? Bad guy? Afrasiabi says he'll be "pretty pissed off" and "who knows" how he'll react to us asking him for help.
10:15 a.m. Talking about how the Legion is getting into Azeroth this time. Tomb of Sargeras was a "wound" that allowed demons into our world. At one point, it was sealed with the Titan Pillars of Creation. A temple to Elune was built on top of it. Now, the wound has reopened.
10:17 a.m. This Q&A is pretty slow-paced. Currently showing a reel of the cosplay contest. The female barbarian rocked it, though.
10:20 a.m. Talking about the new zones. Soe brings up Dalaran specifically. Is the Dalaran from Northrend just floating over to the Broken Isles? Chilton says "conceptually." The Dalaran in Northrend won't go away for gameplay purposes, but as far as story goes, Dalaran has moved to the Broken Isles. There have been some layout updates, art updates, texture updates, etc but will stay mostly true to the one we know.
10:21 a.m. Can we fly in Legion or are we grounded? Hazzikostas says "eventually." The Warlords solution will be the template going forward. After you've explored the Legion content, you'll be able to unlock it. The first steps of the achievement will be available in patch 7.0 so you have some idea of what you need to do and progress toward it from the beginning.
10:23 a.m. Artifacts. One of the first things you do in the expansion is claim your artifact — not just an endgame here. The iLevel and DPS will come from relics that drop as loot. Rather than traditional weapon drop loot, you'll get these relics which you socket into your artifact. Very early in the expansion, there may be a few weapon drops as a catch-up mechanic for low level characters, but your Artifact is otherwise your weapon throughout. For dual spec, you'll start out with just one Artifact, but shortly after be able to get the others for your dual specs if you want. They hope to add some catchup mechanics for those secondary specs to make it not a slog to do all three of them at the same speed. Relics, however, will need to be looted for each weapon.
10:26 a.m. Professions have a larger team of developers than ever before. Professions each have their own questchain. They're looking at UI improvements, new functionality, etc. Potential ways to specialize in certain recipes or type of recipes. (Sounds a little old school to me. Burning Crusade professions?)
10:28 a.m. Another break for a highlight reel. This time, yesterday's live raid. Method vs. Set Sail For Fail.
10:33 a.m. On to demon hunter! Devs asked to quickly explain the demon hunter. Tom Chilton says they considered adding the demon hunter in Burning Crusade but weren't comfortable with adding a new class to the game yet at that point. Provides a general rundown of lore and aesthetic. Illidari, demons, agile, so forth. "What's the fantasy of [the demon hunter]?" Looked at the lore and history: Illidan, the style. Base game mechanics off of those things. "Will we get a 12th character slot so we can have one of each class on a realm?" Chilton gives an immediate "Yes."
10:35 a.m. How does the demon hunter differ from the death knight or monk? Chilton describes the death knight as slow and deliberate, the monk is more of a hybrid magic user, mystical. Demon hunter is quick and agile, vision is to use avoidance as mitigation. Will people lose their raid spots for a demon hunter? Chilton says the people playing demon hunter were probably playing melee anyway — probably expecting some current melee players will want to reroll demon hunter vs someone will be forcibly ejected from a raid.
10:38 a.m. Another highlight reel. Dance contest. Do we need these? I'm not sure they're accomplishing anything but derailing the hype train and making people rage on Twitter about interrupting the Q&A!
10:39 a.m. Frodan asks "how good is the demon hunter dance?" They have their original racial dance (night elf and blood elf) but hey, double jump!
10:40 a.m. It's over. Well… okay. Bye?