Overwatch teases potential new Banco de Dorado heist map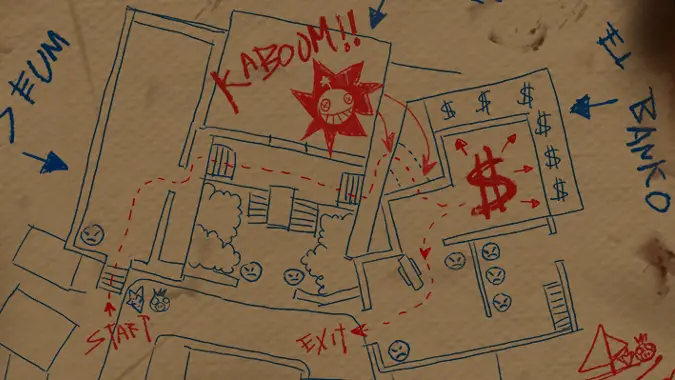 Hot on the heels of Overwatch's teaser for two new characters, Overwatch's official Twitter account has released a teaser for a potential new map. The teaser builds upon the fictional A Moment in Crime — most likely an in-universe equivalent to America's Most Wanted — to show off the new villains' heist.
[EXCLUSIVE] Evidence recovered from audacious Banco de Dorado robbery. Learn more during next week's special report! pic.twitter.com/Ipvyq2JjCH

— Overwatch (@PlayOverwatch) September 17, 2015
While I admit my knowledge of Spanish dialects is lacking at best, the Calaveras watermark on this napkin scribble is a clear sign this map is located in Mexico rather than Spain or any other Spanish-speaking nation. Given the map's layout, it seems a Point Capture playstyle would be appropriate — the team on offense pushing from the Museum to the Town Hall and finally into Banco de Dorado. Though, given the cartoonish kaboom, we may very well end up with a Payload map. I sincerely doubt the baddies are out to blow up the bank, though.
The tweet states we'll learn more next week. Again, this is pointing to TwitchCon in San Francisco next weekend.