The Queue: For the Fjord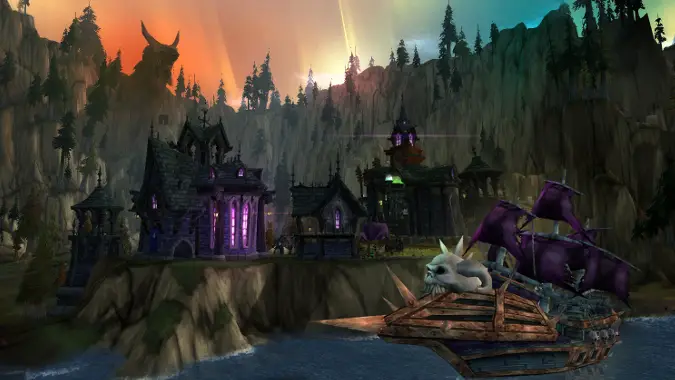 Welcome back to The Queue, our daily Q&A feature for all of Blizzard's games! Have a question for the Blizzard Watch staff? Leave it in the comments!
---
DIAVO JINX, THE JINXY ONE ASKED:
if your character gained the classic powers of the Bronze Dragonflight (maybe by acquiring a new special hourglass with dragons on it?), would you muck with the known timeline?
I'd put that whole "Azeroth needed the orcs to survive what came after" thing to the test. Prevent the Orcs from invading Azeroth. Introduce Kalimdor to the Eastern Kingdoms earlier. Try to get the various Azerothian races to unite without the Orcs ravaging the place first. Then we could see if pre-Orc Azeroth can handle the Burning Legion and so forth on its own. If it can't? Whatever, I have Bronze Dragon powers. I put it back how it was. If it can? GTFO, Orcs.
I want to be clear: this isn't anti-Horde. It's anti-Orc. There's a difference. Everyone else in the Horde can join the Azeroth Is Awesome Club.
---
PFUZZYBUNNY ASKED:
Any news on the BW coloring book?
That's an annual end-of-year thing. It's going to include artwork we've used on the site throughout the year, so it wouldn't make sense to do it at any time other than the end of the year — particularly this year, considering we haven't even been in full operations for a full year yet. Given we haven't had a full year in 2015, it's highly likely we aren't even going to look to start printing anything until the very end of the year — December/January. We just haven't been running (with an artist) long enough to build up a ton of artwork to put in the thing and will likely end up commissioning additional pieces for it so there are a few more pages.
Personally, my goal is to eventually get this thing shipping for Christmas in the years ahead, but for 2015's edition, it'll take a little longer.
I wrote the word "year" way too many times just now.
---
PEPE STORMSTOUT ASKED:
What is your most hated "vermin"/"mongrel" race in WoW? By that I mean the small, annoying humanoids such as troggs, murlocs, goren, gnolls, virmen, kobolds/snobolds, mountain hozen, pale orcs, podlings, etc. etc.
Once upon a time, I'd have said murlocs due to their murderous run-away-come-back-with-friends nature. However, I kinda miss those guys now. Now? Nowadays I go with goren because I find them kinda… goofy. They aren't intimidating. They aren't interesting to look at. They aren't interesting to fight. They're trash mobs for the sake of world filler.
---
BHUTA ASKED:
Can I get away with cloth looms on a druid if I plan to level resto/boomkin?
Sure. I don't know how big of an issue the loss of armor would be if you're soloing, but probably not that big. In dungeons? It won't matter. You (ideally) won't be getting hit.
---
PINKEL ASKED:
Back in the Spring Matt Low was doing videos on his ladder matches on Friday nights, often times featuring decks that were up and coming.  Since June-ish he and Alex have been doing weekly tavern brawls, which are great.  However I'd love to see the ladder videos reappear, I learned a lot from them.  Especially so if he could do at least part of the video showing the decks he talks about in his DeckTech articles which are great articles.
So my question is @Matticus bribe-able?  Will quantities of chocolate work to get him to do the ladder videos again too?
It largely comes down to time and energy. When is Matt (or anyone) available? Is that the best use of that free time? Matticus's streams were happening Friday night — and the viewership was, frankly, awful. Because he streamed Friday night. And who wants to watch a stream on Friday night? Even the big-time Twitch streamers are rarely streaming Friday night because either they have something better to do at that time or everyone who would be watching has something better to do and it'd be wasted time. In our case, Friday happened to be one of the rare times we had a Hearthstone player available to stream — but nobody was there to watch.
Will we do more Hearthstone stuff in the future? Maybe! I'd like to do a lot of things in the future, but I have a nebulous list of priorities and more ladder videos aren't on the top at the moment. I agree it would be great to have a video accompanying deck guides to show people how they work, but it's not  something we're ready to do right now. Doing the Tavern Brawl is fun, we have freedom in what time of day we record, it doesn't take very long, et cetera. The Brawl is pretty chill and doesn't eat up resources we could be putting elsewhere. For now, we're sticking with that, but anything is possible in the future.
Were time and money infinite, there are so many things I'd do, but they're not. We're working on it.
---
CHRTH ASKED:
Howling Fjord or Borean Tundra?
Fjord. Fjord, fjord, fjord. Borean Tundra is, in my opinion, a truly awful zone. I think it's in the running for ugliest zone in World of Warcraft and the quests aren't even any good. The Alliance side of things has a couple of cool moments, but one of them happens right in town, not out in the zone. The other one is at the very end of the zone, requiring you to slog through absolutely everything else.
Howling Fjord is beautiful. The quests are rad. Go Fjord.