Netflix's damaged superhero series Jessica Jones has my attention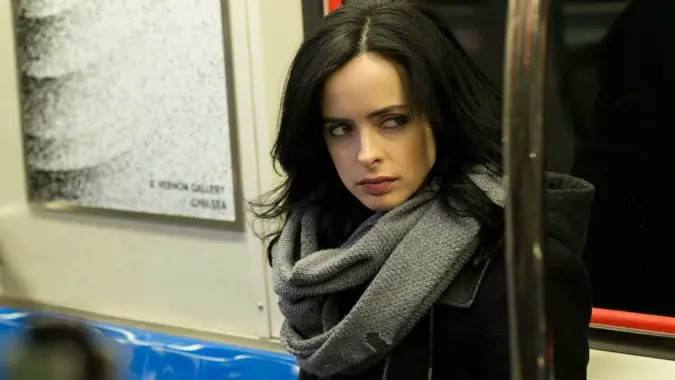 As part of Netflix's deal with Marvel, it's rolling out the second of four series set in New York's notorious Hell's Kitchen neighborhood. The first was Daredevil staring Charlie Cox which released all 13 episodes earlier this year. And now we're getting close to the arrival of Jessica Jones followed by the Luke Cage and Iron Fist series with all of these heroes and storylines culminating, Avengers-style, into The Defenders movie. But for now, it's Jessica's turn in the spotlight.
Starting as an adult-themed comic book series, Alias by the prolific Brian Michael Bendis, Jessica Jones stars Krysten Ritter of Breaking Bad and Don't Trust The Bitch in Apartment 23 fame. She plays a woman who had a short stint as a super hero until something traumatic happens to her and now she resigns herself to working as a detective in the super hero community. Ex-Doctor Who actor David Tennant plays the villain of the season, Kilgrave aka The Purple Man, who had something to do with the tragedy that led to her decision to step down as a super hero. The show also stars Mike Colter as Luke Cage (before he spins off into his own self-titled series) and Carrie-Ann Moss in a mysterious role. And that's all we know. So why am I excited for this series debut?
First, the people behind it. Melissa Rosenberg, the showrunner, also headed Dexter in its brilliant middle years. And the first few episodes are being directed by the talented S.J. Clarkson. Second, I thought Netflix did a solid job with Daredevil. The show lost its way a bit towards the end, but overall was entertaining on a number of levels and I will be watching it when it returns for a second season and introduces The Punisher, played by former Walking Dead star Jon Bernthal.
And last, but not least, the two teaser trailers released so far show me the tone of the series, and it looks even grittier than Daredevil. The second, in particular, indicates a high level of kick assery that is going to be in this show. And if they have anything like the infamous one-take hallway fight scene from Daredevil, then I'm all in.
All thirteen 1-hour episodes of Jessica Jones will be released on Netflix on November 20.