An interview with Jon Morris, creator of League of Regrettable Superheroes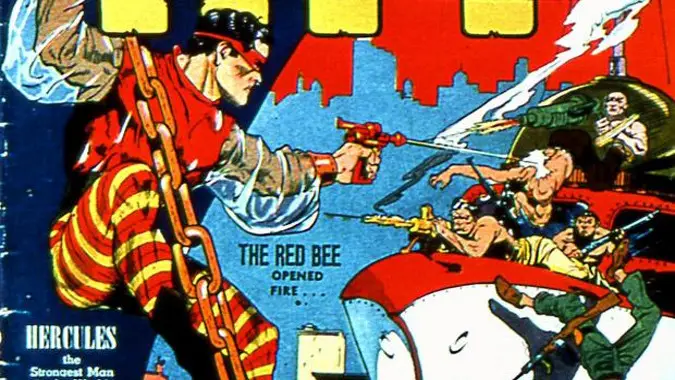 If you haven't heard of Jon Morris, let's fix that.
Jon is a prodigious talent who has been working as a writer and illustrator for years, producing such gems as Jeremy, a comic strip about Dr. Frankenstein's younger son, and the superlative comic book commentary site Gone & Forgotten, which covers everything from long lost golden age heroes to the silver age's Atlas Comics up to the present day. He's also one of the people behind BOO! Halloween Stories, a superlative comedy/horror anthology series available purely digitally.
Now he's released The League of Regrettable Superheroes, which is kind of a love letter to the weirdly wonderful corners of the comic book superhero. Here you will find characters like Lady Satan, who spent two issues fighting Nazis and one fighting black magic for no discernible reason, the Red Bee, who fought crime with trained bees he kept in his costume (no, seriously, that's what he did) and my own personal favorite, ROM Spaceknight, a character who was invented as a toy by Parker Brothers, lasted longer in comics than he did as a toy.
Anyway, let's let Jon speak for himself.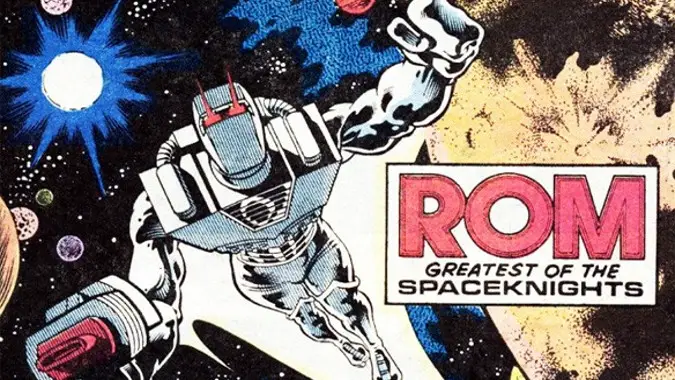 Into The Regrettable
Matthew Rossi: So let's get started with softball questions because I'm not some interview ambush guy and you're not a politician — how'd you decide to do League of Regrettable Superheroes?
Jon Morris: Well, I'd been writing about lesser-known comics and characters over on my blog, Gone&Forgotten, on and off since the late 90s. I'd always wanted to collect the concept as a book in some fashion, so I was lucky to have Quirk Books approach me after a rebroadcast of a This American Life episode on which I'd been a guest.
Do you have any particular character you're fondest of? Anyone you feel kind of bad about putting in the book, like 'she's/he's not THAT regrettable I guess'?
I've definitely taken my punches for Doll Man, Nelvana and ROM, although I tried to do my best by all of those characters — I didn't pan any of them, just outlined the regrettable circumstances which led to their cancellation or obscurity. There's really no one in the book I didn't think had earned a place, it's really intended to be a celebration of the most unusual and unlikeliest superheroes, so the worst case scenario for me is a character who isn't as much fun or isn't half as bizarre as the others. As for my favorites, all of Joe Simon's characters charm me to different degrees, although I have a particular soft spot for his 1970s DC creations — Prez, Brother Power, even the Green Team (who didn't make it into the book), for being so inventive and so much more positive about the younger generation than other heroes created around the same time. My absolute favorite is The Red Bee, however — few have done so much with so little as he.
Clearly some of these characters have had long runs (ROM I think had something like 70+ issues) while others only lasted a few issues — any of them you wish had longer runs or seen other creators take a shot at? Could #711 have sustained a series?
711 ran about as far as a character who installed a revolving door in his prison cell possibly could, and he has a great ending — murdered in front of the character who'd take over his feature. There are a few I think could've kept going, or who I'd love to have seen continue — Mother Hubbard, an absolutely terrifying witch-like character who fought both Nazis and monsters would have been neat to see pick up a genuine mythos. Prez and Brother Power were tragically cut short, and there was a lot of charm about US1, the trucking cyborg superhero.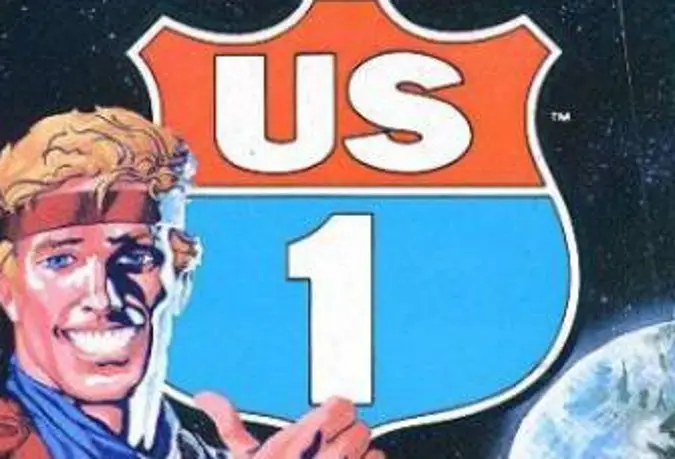 Okay, you've written about the Atlas Third Issue Switch before, if I'm not mistaken, and I think Lady Satan had a similar "Suddenly everything is different" happen to her, why do you think some comics try to pull that off? Has it ever worked?
Maybe not on a three-issue scale, but there are a lot of superheroes who just blithely became a different character altogether with no warning. The best examples, of course, may be the Atom, Hawkman, Green Lantern and the Flash who all became entirely different people — sometimes with different powers. Aquaman is a good example of that — no one, not even folks writing articles about Aquaman, ever pay that much attention to his original, no-super-powers-having, air-breathing incarnation, as the only one they remember is the King of Atlantis version. Dick Briefer's Frankenstein is another great example — he started off as a horror character, then an adventure character, then a comedy one. (I can name a failure of this type — Nightmare of Nightmare and Sleepy received a total revamp in his final adventure, but it did little to reverse his fortunes.)
This reminds me of how Marvel had a Doctor Strange who fought Iron Man and then just created another one who was a sorcerer.
Sure, if something doesn't work the first time, why throw away a perfectly good name?
You mentioned your weblog Gone and Forgotten, which as you pointed out has been around since the late 90's, and you've done a lot of comic book reviews there — one that always sticks in my head was your Secret Wars II review. Ever considered collecting those or is LoRS more the kind of work you'd rather do? Because that Secret Wars II review was just one of many really amazing reviews you did.
Well thanks. The Secret Wars II review was a pretty good example of my headspace when the blog was young. I was punishing myself by reading these terrible, cynical, confusing, and sometimes just offensively bad books and then mitigating the pain by excoriating the book in public for the amusement of my few readers. I still find myself doing that on occasion, but I've recently been having more fun trying to elevate, celebrate and explore these characters and stories which were far more weird than bad.
Any chance you'll do a League style book for villains?
I'd love to — Keep your fingers crossed!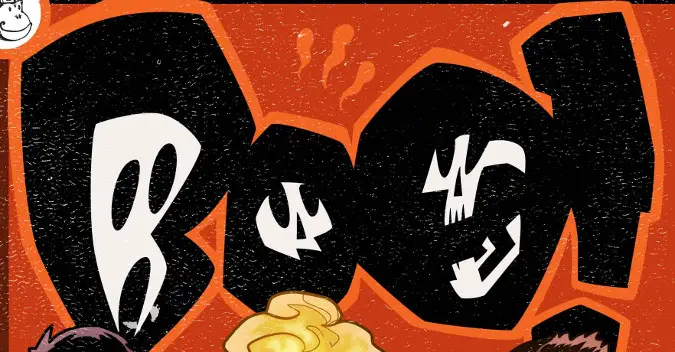 A Taste of Halloween
Okay, I want to get BOO! some time here as well. How'd you start working on it? It's over at Monkeybrain, yes?
Yessir, I totally capitalized on my friendship with some Monkeybrain contributors to get my foot in the door there — I'd definitely wanted to do the book  as digital but Comixology didn't yet have their submission process, so hooking up with an existing publisher was the only way to go. BOO! had been something my pal Manning Krull and I had developed back in 2001 or thereabouts, as an online thing where we'd invited other folks to participate,after a while. When 2013 hit, I thought the year was too advantageous to ignore and decided it was time to revive the project with a full roster of creators.
You got Kelly Tindall on board, to name just one of many really talented people.
Mm, he's been in the last three issues, actually, a great find. In our latest issue alone, we picked up JoJo Seames, Tyler Hendrix, and a great story by newcomer Kim Kirsch. This is along with a lot of our vets like Ken Lowery, Scott Faulkner, Matt Smigiel and Kyle Starks. And I'm leaving out at least a dozen folks there
You should probably break down what BOO! is for people, because I don't want to just say it's a Halloween anthology, you did a Holiday one as well right?
Right — it's a humor/horror anthology featuring a mix of creators – we aim for thirteen creative teams each time around, but circumstances sometimes restrict us to fewer or allow us more. The book is released as a digital-only production, which is pretty good news pocketbook-wise — the latest issue, for instance, is more than 80 pages for only $1.99, at a time when a hard copy of a book that big would run you at least twelve bucks or more. The inspiration for it is typically more the Code-era 1970s horror books like House of Mystery, Unexpected and the like — stories with ironic and comical conclusions built around a central core of horror and creepiness.
Ah, so like my old favorite House of Secrets.
It was definitely overshadows by House of Mystery.
How'd you get into cartooning and writing about comics?
Well, I grew up in a house full of comics — both my parents read and collected them. My pop came over from Germany as a kid, not speaking or reading English, so he taught himself the language by watching television and reading comic books. Mom was an artist and a schoolteacher, and she was into both the art in the books and in their typically positive message about the capability of people — particularly young people — to effect meaningful change in the world. So there was a real positive vibe around comics when I was growing up, and I naturally tuned into that.
Thanks a lot for taking the time, I really appreciate it.

I can't recommend Jon's work enough. I'd need some kind of superpower for that. So check out BOO! (it's the season, after all) and definitely get yourself a copy of League of Regrettable Superheroes as fast as you can.