Star Wars: The Force Awakens full trailer and ticket pre-sales rumored for Monday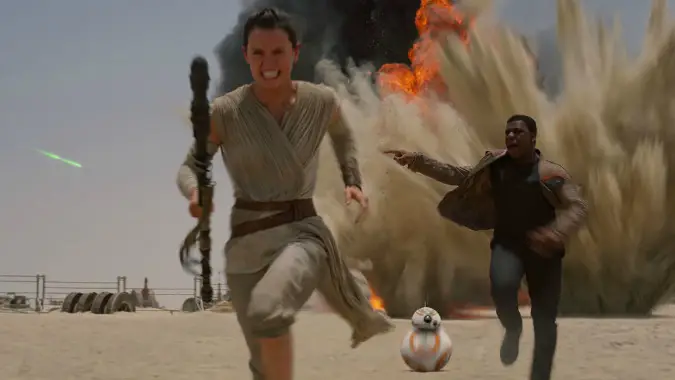 Hug your BB-8 close. Star Wars hype is getting turned up to 11 on October 19.
It started with a tweet. On Tuesday the official Brazilian Cinemark Theaters Twitter account posted then deleted an announcement that ticket pre-sales would start this Monday, October 19, for Star Wars: The Force Awakens.  Then Screencrush reported that major U.S. theater chains were told to enter pre-sale ticketing information into their online purchase systems by today that included not only the new movie, but also a marathon of the previous six films as well for $50.
Now io9 is reporting they have confirmation of the first full trailer for the film will premiere on ESPN on Monday night around 8pm ET and pre-sales will start online about a half an hour after that. Also, the poster for the movie is expected to be released on Sunday with possibly a new logo for the title.
While there has been no official announcement from Disney or the official Star Wars site, it would be a safe bet that Monday night is going to be a very good one for Star Wars fans. If you don't subscribe to cable to catch the trailer, expect it to show up on the Internet shortly after its TV debut. In the meantime, enjoy the previously released teasers below.
Star Wars: The Force Awakens opens in theaters nationwide on December 18.
EDIT: And here's the trailer!