Jim Butcher's new novel The Aeronaut's Windlass is one of his best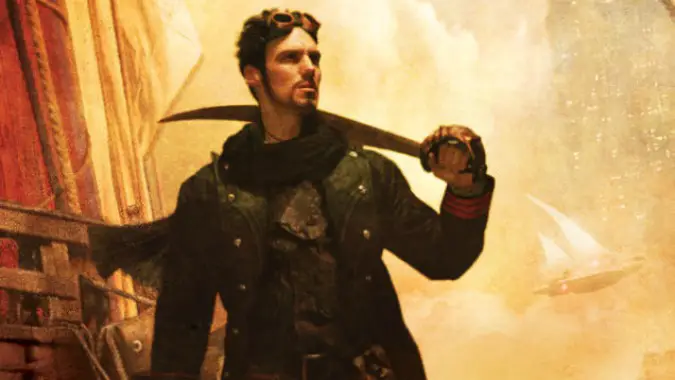 The popular Dresden author debuts his first novel in a new series and reading it cost me some serious sleep. On a work night. It's that good.
I've been a big fan of Jim Butcher since I stumbled onto his Dresden series around book five. I greedily devoured the first four then waited every year for the next one to be published (he's currently on #15 of 23 planned books in the series.) His growing mastery of combining action-adventure with an urban fantasy setting featuring Chicago's wizard detective Harry Dresden made it a must-read for me. And while his later foray into Pokémon meets Lost Roman Legion territory of the Codex Alera series didn't do much for me, his newest series debut is everything I love about Butcher's writing.
The Cinder Spires: The Aeronaut's Windlass started as a writing exercise about a setting that required the use of goggles. In it Butcher introduces us to the steampunk-flavored world of floating independent city-states called Spires, a fleet of warring military and pirate skyships and a society that has forgotten its past on the planet's surface. The known population survives and thrives on a combination of magic, technology and ancient airborne structures whose design is lost to the ages. Within this setting, Butcher introduces us to a cast of characters who we will come to know as they are forced together to face a threat to both themselves and their Spire.
And this is where Butcher really shines, when he throws a motley cast of different characters into an imminent crisis and following them as they  struggle against the odds to overcome it in time. But instead of the singular voice that dominates his Dresden books, here he constantly shifts point of view among the half dozen or so main characters in the novel, including one of the villains of the piece. We get to see Butcher's carefully-crafted world through the eyes of a proper, but headstrong young woman just entering military service, a grizzled skyship captain drummed out of his city's skyfleet, a scatter-brained wizard's assistant who proves to be no pushover and, most amusingly, an arrogant and smug warrior cat and his human who he must grudgingly admit is quite capable despite not being a cat herself.
Butcher manages to juggle these characters in a tightly-plotted adventure that kept me turning the page. On the third night of reading I ended up staying up until 3am just to get through the last 1/3rd of the book. It's not a classic for the ages, but I highly recommend this novel for fans of Butcher. For those of you who aren't familiar with his work, this a great book to get acquainted with his skill in creating polished, fast-paced and entertaining fantasy fiction. The Aeronaut's Windlass is the first in The Cinder Spires trilogy, with two more trilogies planned, so there's plenty more to come.
The Cinder Spires: The Aeronaut's Windlass is available on Amazon. You can read sample chapters on Butcher's official site.