Blizzard reveals cover art for World of Warcraft: Illidan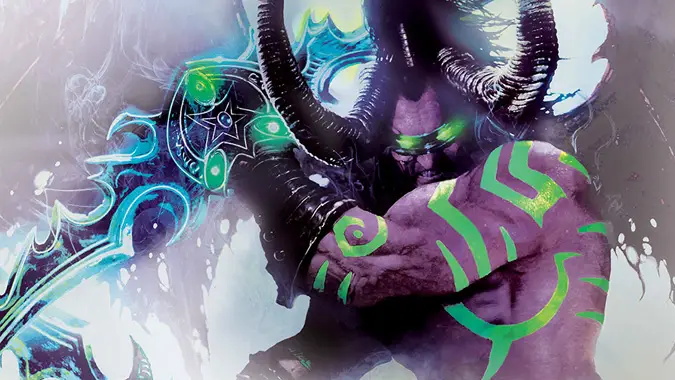 Blizzard released some new details about the next WoW novel yesterday, and a nice preview of the cover for the book. World of Warcraft: Illidan by William King is due for release in March of 2016. The novel has a pretty striking cover, and the image combined with the white background makes for an eye-catching book. If you're unfamiliar with King, he's written plenty of other novels, most notably for Warhammer. Basically, this book is in excellent hands.
World of Warcraft: Illidan is the bridge novel between Warlords of Draenor and the upcoming Legion expansion. It's been called the defining Illidan story, and apparently delves into the history behind one of Warcraft's most recognizable faces. It's not a villain's tale, it's the tale of Illidan's mission to rid the universe of the Burning Legion, and supposedly presents him in a way we've never seen before. I'm looking forward to it — Illidan is one of those characters who's never really gotten that deep backstory in the way we see with characters like Thrall or Malfurion.
If you're heading to BlizzCon, King will be there as well, signing cover art posters at the Random House booth and the Blizzard Signing Area. World of Warcraft: Illidan is the first novel out from Blizzard's new partnership with Random House, and you can pre-order the novel on Amazon. For more information, including a closer look at that cover art as well as the BlizzCon signing schedule, take a look at Blizzard's official announcement.