Lightsworn: Holy Paladin Legion updates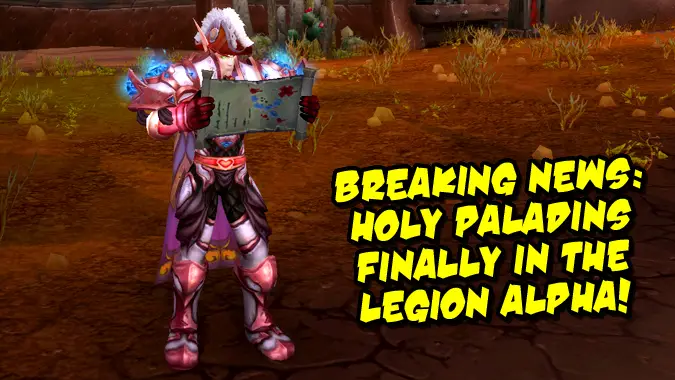 Big update week, Holydins! Holy Paladins are finally available for playtesting, and last week's Legion alpha build also came with a slew of updates to our abilities. Let's look at what's changed.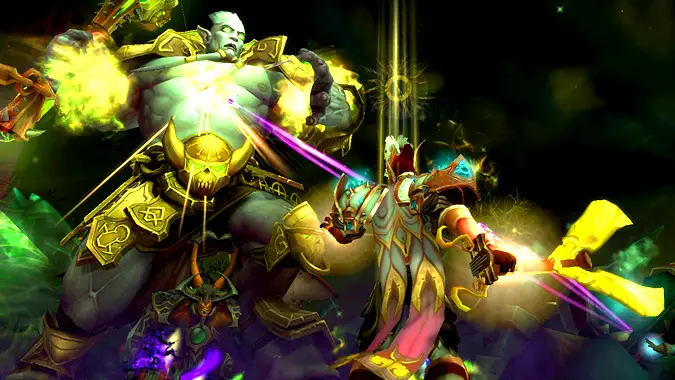 Baseline spell changes
Absolution: All healers are getting a new mass resurrection spell, which is nice. More importantly, though, is the fact that non-healer specs such as Protection and Retribution Paladins are getting their resurrection abilities back. For a while healers were looking to be the only ones capable of resurrecting, which would have been annoying and overly restrictive.
Aura Mastery: While Aura Mastery itself hasn't changed (it still empowers our various auras), the auras themselves are drastically different. More on those later.
Beacon of Light, Flash of Light, and Holy Shock have had minor mana adjustments. Nothing really noteworthy.
Divine Intervention: Now received at level 78 instead of level 18. Seems sensible — level 18 was probably too early for such a powerful utility spell, though Mages do get Cauterize at level 30 and Blood Death Knights get Purgatory at level 60…
Light of the Martyr: Seems Blizzard still isn't sure what Light Tap's ratio of health sacrificed to amount healed should be. Previously we were looking at 400% of Spell Power in sacrificed health for a 525% Spell Power heal, a pretty good trade-off. However, Light Tap is now back to an equal 450% / 450% ratio, as well as not healing our Beacon of Light. Disappointing. Talents and Silver Hand traits will be able to alter this sacrifice/heal ratio, but I can't help but feel the exchange should be a little more generous — it's a dangerous spell, and many players are already skeptical about it. If Blizzard wants us to use it regularly, the reward needs to be worth the risk.
Reprisal: Removed. Formerly "Melee attacks against you cause your next Crusader Strike to deal 200% additional damage." Last month I was quite excited about Reprisal, praising the clever design of a Crusader Strike buff that only took effect while questing, preventing any PVE balance issues. Throw that all in the garbage, because Reprisal's gone now. I guess it's back to leveling via Denounce and Holy Shock spam?
Tower of Light: Removed. Formerly, "All heals cast by other members of your party or raid also heal your Beacon of Light for 10% of the amount healed. Additionally, all healing you cause on your Beacon of Light is increased by 100%. Lasts 10 sec. 3 minute cooldown." It's a shame that we're losing Tower of Light without even getting to try it out, as it sounded like a pretty fun cooldown. It also had the rare distinction of being a class ability that I saw other healing classes getting excited about.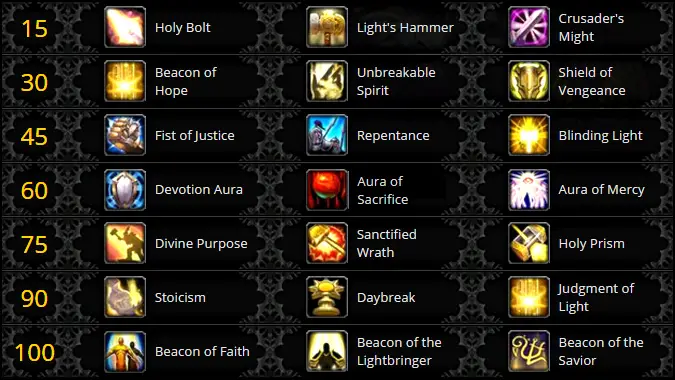 Holy Paladin talent changes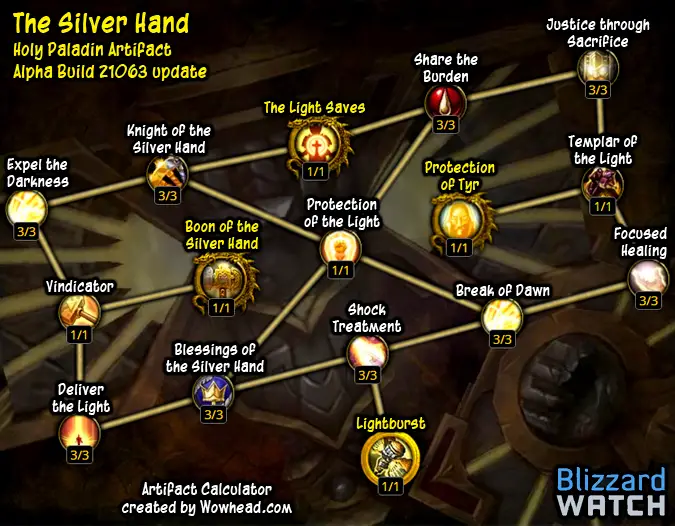 Silver Hand Artifact Trait Changes
The Silver Hand
Interestingly, the Silver Hand itself has changed! Formerly a 1-handed mace with matching off-hand libram, our artifact weapon is now a 2-handed mace with two relic slots and a sexy healing proc that seems to incorporate elements of the old Lightburst trait. Besides the obvious transmog implications, the new Silver Hand is also packing a base weapon damage equal to 2-handed DPS artifact weapons, meaning the removal of Reprisal might not be that big a loss after all.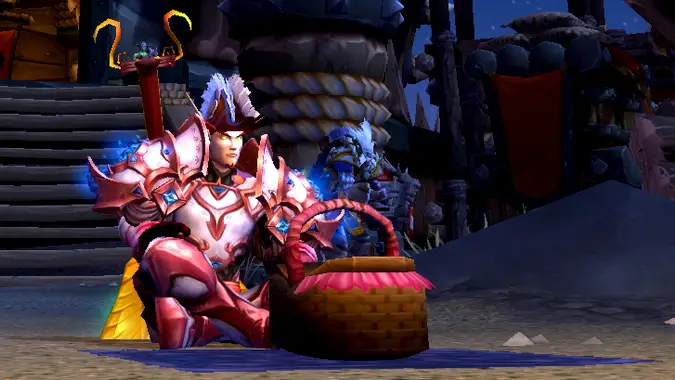 Whew! Those are some significant overhauls. If you're in the Legion Alpha, make sure to try out all of our shiny new toys, and be sure to leave feedback on how they feel!