Warcraft Movie Funkos and other merchandise from toy fair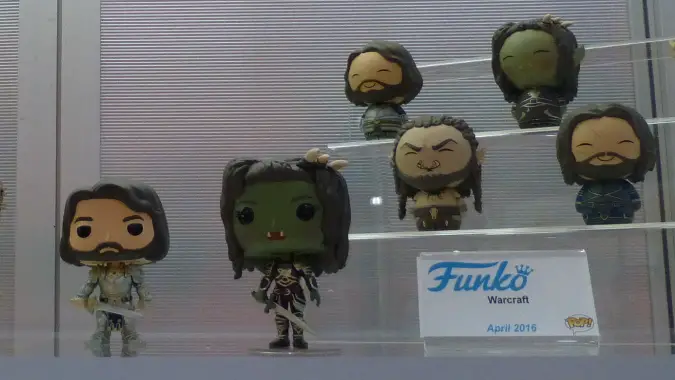 The NY Toy Fair is an event where exhibitors show their upcoming merchandise to the press. Though there are a few advancements in Play-Doh I have my eye on, the news here is the breadth of Warcraft movie tie-in merchandise. There were a few examples of the toy line from Jakks Pacific we've been seeing pop up at Toys R Us on display, and new offerings as varied as glassware from the company Just Funky or watches from ThinkGeek. One of the more anticipated showings came from the company Funko, which offered a glimpse of collectibles from three different lines: Mystery Minis, Dorbs, and their signature Pop Vinyl series.
The Mystery Minis seem to showcase the greatest number of different characters, including ones we haven't really seen in the merchandise so far, like Taria Wrynn and Gul'dan. Having a lot of different characters in this line makes sense, due to both the highly collectible nature and small size of these figures. This is also true of the existing Heroes of the Storm Mystery Minis line, which includes a couple alt skins in their lineup. The Dorbs and Pop Vinyls on display are the same five characters repeated in the different styles: Garona, Anduin Lothar, King Llane, Orgrim and Durotan. We'll see whether they plan on producing more characters before Warcraft releases on June 10th.
You can see the full sneak peek of all Funko's wares from Toy Fair NY 2016 on their website.