Warcraft movie toys now in stores and online
Updated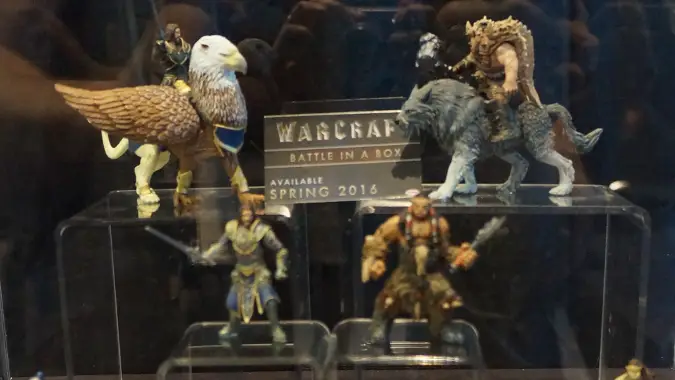 Update: Even if your local Toys R Us doesn't have movie merch in stock yet, you can now buy it online. You have your choice of the Lothar and Blackhand action figure set or a perhaps not quite life-sized Doomhammer toy, both of which retail for $24.99. The rest of the original article is below.
Update 2: More industrious shoppers have been posting photos of other toys, and though they aren't available online you can check out some photos below.
We're starting to see more teasers and information designed to pique interest in the Warcraft movie, with its release this June fast approaching. Now appearing in some Toys R Us stores is the latest entrance in the hype machine: action figures. Duncan Jones, the director of the movie, retweeted an eagle-eyed collector who first spotted the new toys on Wednesday.
Holy shnikey! That's my first legit movie-toy tie-in!! https://t.co/GSKB7MPJYM

— Duncan Jones (@ManMadeMoon) January 28, 2016
The box set he photographed features two characters and two mounts. It appears to be from the Battle in a Box action figure series we photographed earlier at BlizzCon. This particular set has something for both Alliance and Horde, including both Lothar and Blackhand. In the box, there's Anduin Lothar and the gryphon he's seen riding in many of the trailers for the Alliance enthusiasts, while Horde loyalists get Blackhand with a sleek white wolf.
More toys are on offer, too, and while we haven't seen them in stores or online yet, Duncan Jones apparently hit paydirt at his local Toys R Us with individual Blackhand and Durotan figures as well as the Lothar vs. Blackhand set.
I'm not waiting for my freebies. Little bit of ToysRus shoppin'! :) pic.twitter.com/yNLjrrPeuz

— Duncan Jones (@ManMadeMoon) January 29, 2016
Industrious Queuvian Alarys has managed to find an even bigger set of action figures, including Durotan, Blackhand, Lothar vs. Blackhand, Lothar vs. Garona, Lothar vs. Horde Soldier, Lothar vs. Blackhand, Alliance Soldier vs. Durotan, and Alliance Soldier vs. Horde Soldier. Nice haul!
I went to Toys R Us myself and there weren't any on the shelves just yet. Regardless, you can expect to see them at a store near you very soon. Until then, I picked up a pack of sharpies and this nice man. Hey, the battle for Stormwind has to start somewhere.