WoW
Feb 29, 2016 1:01 pm CT
No epic battle pets in Legion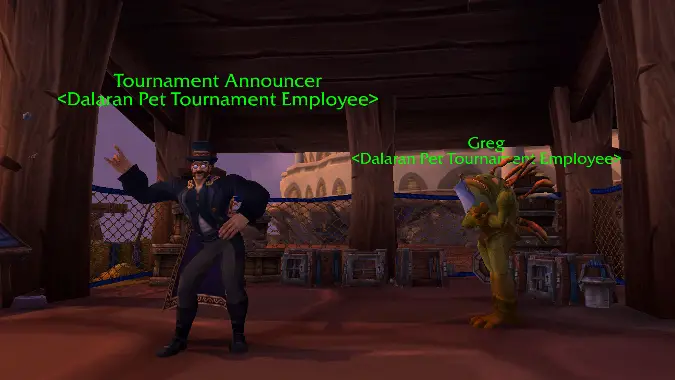 A recent Legion build added new battle stones that would increase the maximum rarity of pets from rare to epic — and because epic pets would be a lot more powerful than rare pets, it would mean everyone would have to get them in order to do Legion pet battles. Though that would offer pet battlers a new avenue to advance, it would make it a lot harder for new battlers to get into the game — and existing pet battlers were looking at a massive grind of Pet Charms to max out their pets for Legion.
But after reviewing community feedback, Blizzard has decided not to go ahead with the change. Instead of just increasing pet power, Legion will focus on creating new challenges for pet battlers — and CM Kaivax cited the Celestial Tournament as a good example of a challenge that required strategy and not just a small collection of powerful pets.
Check out the full post below for all the details, plus Blizzard's thought process for why they won't be doing epic battle pets in Legion.
Hi everyone!
First and foremost, thank you very much for testing pet battles in the Legion Alpha. We've heard your concerns and have decided not to move forward with epic pet battle stones in Legion.
To explain a bit about how we arrived at this point–
When designing rewards for the new battle pet features in Legion and the revamped pet store in Dalaran, we considered epic stones a potential direction to go. Some players are nearing the cap of max-level, all-rare pet teams, and we wanted to see if this space would satisfy their needs for a long-term future level of investment.
You have correctly identified a few of the issues that come up with this feature:
New players now have a harder time catching up (though we could mitigate this by speeding up the early leveling process).
Players with 600+ rare pets that felt as if they were nearing completion of their pet journal are back to having 600+ pets to level.
Power Creep – older content is now easier, future content is harder for new players entering pet battles.
One of the things we like about pet battles is that much of the early content stays relevant through all of the expansions. Similarly, the collection aspect of battle pets works well when it's wider (more pets to collect, more variety in abilities) rather than taller (more levels). Both of these are very good reasons to avoid adding epic pet stones.
This direction also pushes us to create content that tests max-level-pet-battlers in a way that is not purely numbers, but use of abilities, use of specific pets, and memorization of enemy strategies. The Celestial Tournament was a good example of pet battle content that rewarded a varied and filled pet stable. We have some exciting things in mind for future battles versus tamers!
It's worth noting that this feature was not intended to replace any gameplay content. We're working on all sorts of pet battle updates that we'd like to make in future patches.
Thanks again for all of your feedback. We really appreciate your great ideas and discussion!