News
Feb 19, 2016 1:00 pm CT
Epic quality battle pets a possibility in Legion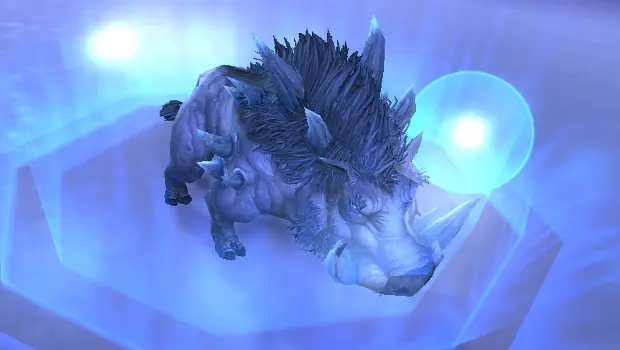 The latest alpha build for Legion has brought with it a few new pet developments. In addition to new pets, some toys, and a new tamer with a whole team of corgis datamined by Wowhead, there's an important addition for alpha testers. A special vendor has joined the alpha community with a new battle stone, unlimited leveling stones, and Pet Charm currency — all of which will help us get a feel for just how pet battles will play out in Legion.
But we expect to see these battle stones in the live game, too, and they offer a big upgrade. Like battle stones we've seen in the past this new stone increases the rarity of a pet, but the new Immaculate Battle-Stone raises it to epic — purple. Since the current maximum rarity is rare — blue — this has the pet community in a bit of an uproar. 
But how do you get these new battle stones? Next to the kindly test vendor is an Exotic Pet Supplier who trades in Mystery Bags that have a guaranteed chance at one of the new epic rarity upgrade stones. These bags are a whopping 200 charms a pop, and the stones that come from them are assigned to a specific pet family. When I opened ten bags worth 2,000 charms, I got one each of Immaculate Aquatic, Dragonkin, Humanoid, and Beast Battle-Stones, a whopping six Undead. And as you might guess, the stones offer considerable bonuses. I started with a common level 25 Nether Faerie Dragon:
Original stats: 1186 HP, 245 Speed, 245 Power
Rare stats: 1384 HP, 289 Speed and Power
Epic stats: 1482 HP, 311 Speed and Power
I'm still super excited about apparent baby theropods with feathers, but this has taken the wind out of my sails a bit. For pet battlers in Legion, this potentially means collecting a lot of battle stones — and a lot of Pet Charms to buy them. These are the same charms from Warlords, and because they'll be used to buy other pet-related items in Legion it's not a bad idea to start farming them now.
Will there be other ways to upgrade pets or acquire battle stones? We don't know yet.
Thankfully, feedback can be directed to the devs about this item in this thread on the official pet battles forums. Pet dev Jeremy Feasel has also asked for feedback on Twitter on a few other ideas, like cosmetic variants rather than statistical ones.