Lightsworn: Alpha changes for Protection Paladins in February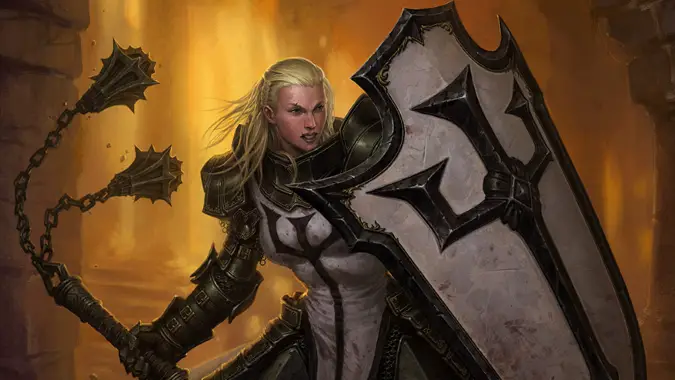 February was a busy month for Legion alpha builds. I'm not sure if we're any closer to a beta, but at least we're getting a better view of how Protection Paladins are shaping up for the coming expansion. Before we know it we'll be wielding a massive Titanic shield in one hand and a shining sword in the other. Then again, maybe we won't be wielding that last one! There's been big doin's on the artifact front this past month which makes this perhaps the most exciting month of alpha news in a good while.
We have a flail!
This is definitely the most interesting development this month. Dataminers have discovered art for an honest-to-goodness, Crusader-style flail in one of the most recent builds. There was initially some confusion as to what specialization the flail might belong to, but it appears based on the various color options that were datamined that it is reasonable to assume the flail will belong to Protection Paladins. Reddit user /u/Andypaladin made this graphic demonstrating how the different color variations match Truthguard's colors.
MMO-Champion also recorded a video of how combat animations look when a character is wielding the flail. As you can see, the animations are pretty polished already. This is pretty exciting! I was horribly underwhelmed when I saw that we were being given a boring sword as our main-hand weapon to go with our much more impressive shield. Not only was the sword boring looking, but it also was pretty antithetical to the Protection Paladin aesthetic. We Paladins are not typically sword-bearers, we are wielders of mighty hammers and maces! A flail is a much better option for our main hand. I only hope that the option is going to be baseline and not locked behind the highest levels of content.
Relatedly, a new shield design was datamined. You can see on this Wowhead news post how the new design looks. It's a much cleaner, more streamlined shape and I think it actually looks a lot better than most of the over-the-top designs that we are currently being offered. (But that's just me.)
Spell changes
This month has been pretty light for spell changes for Protection. We only have these two changes that are worth paying attention to:
As you can see, nothing really worth caring about just yet. The second change is pretty much just some tuning on that spell to eventually land on a sweet spot of healing-to-cooldown.
Notable talent changes in the past few builds
Talents are where most of the excitement has been this month. We have multiple changes and even a major shakeup of the first talent tier. Specifically:
There were also changes to the super-interesting PvP talents:

Artifact changes
The third place were we saw a bunch of changes this past month was to our artifact talents. Build 21063 featured a slew of artifact changes and there were also a few changes in 22134, the most recent build.
And there you have it. That's the month that was. Here's hoping that March is just as eventful for us, though preferably in way that doesn't involve any nerfs!