News
Mar 17, 2016 5:09 pm CT
Blizzard Voice Chat in alpha testing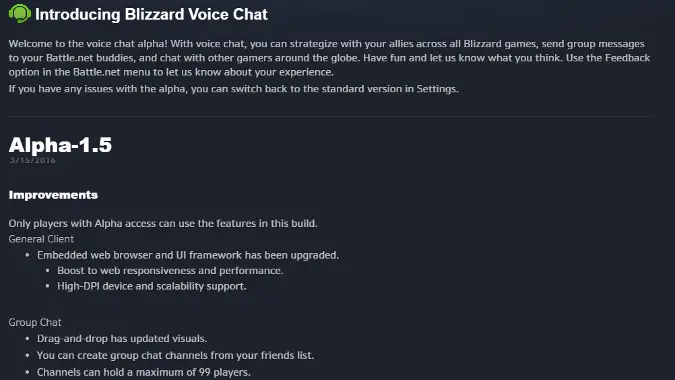 Blizzard has quietly begun an internal alpha test for Blizzard Voice Chat, a voice chat service which will extend across all of Battle.net. Long-time World of Warcraft players likely felt a visceral pang of dread, given World of Warcraft's built-in voice chat didn't live up to expectations — but given Overwatch's built-in voice chat has performed well thus far, it's unlikely we have much to fear. With Blizzard Voice Chat, players won't be limited to speaking only with those they're grouped with in-game — or limited by game at all.
From what we've seen, each voice channel can contain up to 99 users in the current alpha build. You can create a group chat from your friends list and use voice chat in any chat channel, with built-in tools which allow you to control the volume or outright mute users on an individual level. Given this voice chat feature is still in internal testing, it's likely quite early in development and we have no ETA as to when it will launch — or even enter a more public testing phase.
Here at Blizzard Watch, we're certainly intrigued by this new feature — if they can provide a more stable product than certain other VoIP services, our streams will be thankful for it.