WoW
Mar 17, 2016 2:00 pm CT
Latest Legion alpha build brings back Fistweaving for PVP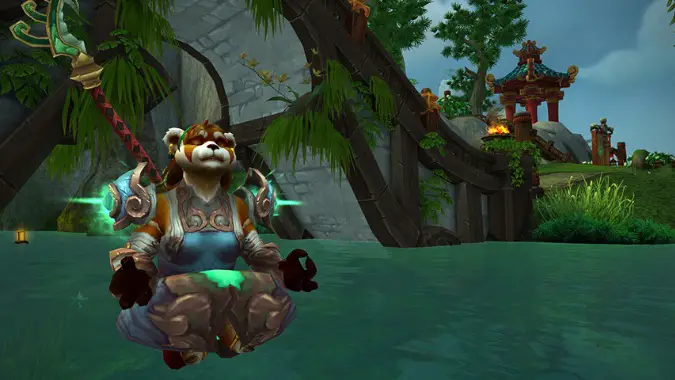 We've got a new Legion alpha patch, folks! While this patch doesn't add new zones, dungeons, or specs, it does include changes for many classes, with lots of tweaks to talents and artifacts.On top of that, there's one change that I'm particularly excited about: the return of Fistweaving for Mistweaver Monks… well, for PVP. But maybe it will show up in PVE again sometime soon? I can but hope.
At any rate, dive into the full patch notes, with commentary by Celestalon, below.
Class Status – We're continuing to iterate on our class abilities and talents, based on testing and feedback. This build has many revisions scattered around the classes, but here are some highlights:
Tank Self-Healing – Several tank heals have switched from being %-of-Max-Health to AP-based healing. This resolves unintended scaling with the massive health increase that artifacts provide.
Enhancement Shaman – Revisions to several talents, and a couple new talents.
Blood Death Knight – Tweaks to the core combat abilities, including Death and Decay cooldown reduced, and Blood Strike applying a snare.
Survival Hunter – Several changes to core abilities and talents. Farstrider buffed significantly. Traps no longer share a cooldown, and all of their cooldowns massively reduced. Fixed many talents to deal reasonable damage instead of placeholder numbers (NOTE: This doesn't mean that we've done exact tuning yet, just that they're in the right ballpark now).
Outlaw Rogue – Roll the Bones now rolls 6 dice instead of 5. A subtle change, but this should resolve the rotational issue of wanting to reroll until you get a perfect roll. Jolly Roger tweaked to better synergize with the artifact.
Warlocks – Demonic Servitude moved into Grimoire of Supremacy's talent slot (and took Grimoire of Supremacy's name). New Soul Conduit talent in its place.
Unholy Death Knight – Tweaks to the core combat abilities to reduce randomness in Festering Wound application.
Warriors – Storm Bolt and Shockwave adjusted to clearly be utility abilities, not DPS increases. Battle Cry returns to Protection, and Intimidating Shout returns to Arms and Fury.
Brewmaster Monk – Celestial Fortune, a new passive, added to give defensive value to Critical Strike.
Holy Paladin – Level 100 talents reduced to a more reasonable power level, and core abilities buffed to compensate.
Artifact Trait Status – Many artifact traits have been revised in this build. The following artifacts have received the most changes in this build:
Beast Mastery Hunter – Several traits rearranged and revised. Hati has a new visual effect.
Discipline Priest – Active ability revised, and now triggers Atonement. Several traits revised.
Fire Mage – Phoenix Flames is now an active ability, separate from Pyroblast. Several other traits revised to accommodate.
Guardian Druid – Tweaks to a few traits.
Blood Death Knight – Revision to several traits.
Outlaw Rogue – Active ability revised to play better with the rotation. A few traits revised.
Assassination Rogue – Several traits revised. In particular, Blood of the Assassinated applies a temporary increase to Rupture damage, instead of an additional bleed, solving synergy issues with Venomous Wounds.
Enhancement Shaman – Revisions to the active ability, and a couple traits. Note that there is still one trait planning to be redesigned, due to there being duplicate effects.
Protection Warrior – Active ability revised to be much stronger. Several traits revised.
Fury Warrior – A few traits revised.
Arms Warrior – A few traits revised.
Holy Paladin – Artifact now includes a passive +30% Armor buff, to offset not having a shield.
Balance Druid – Tweaks to the active abilities and Goldrinn's Fang.
Brewmaster Monk – A few traits revised.
Feral Druid – A few traits revised to maintain a better balance between bleeds and direct damage.
Affliction Warlock – The active ability has been redesigned, and escaped souls are no longer attackable. Further revision to traits to accommodate this new active ability are still in the works.
PvP Talent Status – Many PvP talents have been revised in this build. The most changes have been seen on:
PvP Standardized Stats – Stats for several specs have been adjusted:
Intellect increased for Restoration Shaman, Holy Priests, Holy Paladins, and Mistweaver Monks, and Affliction Warlocks.
Agility reduced for Brewmaster Monks, Guardian Druids, and All Demon Hunters.
Strength reduced for Blood Death Knights, Protection Paladins, Protection Warriors.
Stamina increased for Frost Death Knights, Unholy Death Knights, and All Warlocks.
Damage done to players decreased for Restoration Shaman, Holy Priests, Holy Paladins, and Mistweaver Monks.
Holy Priest – Several talents revised and added in order to make Holy gameplay a bit more interesting. There are now options to amplify their nature of being a sturdy turret healer. We've also reduced the cooldown of Inner Focus, to help them get casts off without fear of being interrupted. Finally, Spirit of the Redeemer has been added, which should help when being heavily focused.
Protection Paladin – They were shaping up to be too strong against casters, with several different ways to interrupt/silence/stun them. Some of that utility has moved into talents. We've also revised and added talents to help them act as a protector of others, through offhealing.
Mistweaver Monk – Several talents revised, in order to amplify how well Mistweavers perform at their intended strengths of quick movement, being self-sufficient, and having strong burst healing. We've also made some adjustments to the 4th row in order to provide better alternatives to Ancient Mistweaver Arts. An experimental Fistweaving option has been added, allowing them to heal while dishing out meaningful damage.
Holy Paladin – Holy Paladins are similar to Holy Priests in that they are backline turret healers who heal for a lot if left alone. However, we wanted to embrace the new alternative playstyle of the "holy warrior" who can choose to be in the frontlines. There are some talents that reward you for that gameplay already, but with the addition of Avenging Crusader it will become much cooler. Similar to Mistweavers and Holy, we moved their "anti-silence" spell Divine Favor to a less competitive talent tier.
Protection Warrior – A few talents revised, notably reducing how many stuns are provided by Warpath.
Thanks, and we look forward to your feedback!
Also, check out the design notes from the previous build, if you haven't already as well: http://us.battle.net/wow/en/forum/topic/20742665292