SPOILERS: Let's talk about what just happened on Game of Thrones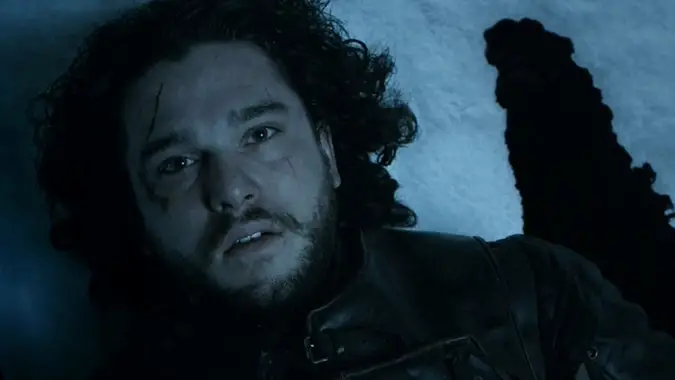 Look — unless you've watched the Game of Thrones second episode of the sixth season, don't read ahead. Just don't. Stop right now and go do whatever you have to in order to watch it. Come back after you're done. There are earth shattering spoilers ahead.
You'll know that it is time to read this post.
Okay so now that everyone else is gone… LORD OF LIGHT THAT REALLY HAPPENED. We all wanted him to come back to life, we all didn't want this to be over… and then he actually did. It's not a Ned Stark situation, it's not a Syrio Forell ending. Jon Snow is back and it's going to be awesome.
There's a few things that this sets up:
He's going to absolutely end Ramsey Bolton. This isn't even going to be a nice ending, this is going to be a "I'm going to kill you, let you come back to life as a Other, and then kill you a few more times" ending.
He's going to do something to Thorne. The voice over at the end where they say that the men consider him "a god" is very telling. Jon "the god" Snow is going to smite some traitors.
What I love about this more than anything is that it's such a major step forward from where the book left off. If I, and half the internet, are freaking out over what happened on TV, can you imagine how good the book will be? That is, of course, assuming that the book takes this path; G.R.R.M. has said that the book could go a different route, and indeed there are characters alive right now that shouldn't be.
There's a few more things worth noting:
Why I am rooting for The Lanisters now? I want to see Jamie take down the High Sparrow.
Hodor used to talk and was named Willis?!? I don't even know where to begin with this one. My life has lost its Hodor.
I have taken up Tyrion's mantra of "I drink and I know things." That's me for the rest of my life. It is so.
I'm glad we're finally seeing a bit more of Asha; even though at this point her character is going to be completely different from the book.
Okay, that's it. Depending on how this post goes over maybe we'll do this next week too. But I couldn't help myself tonight; there's just too much that happened in the last few seconds of the episode. I'll leave you with this, made all the better because Jon Snow and Ygritte are dating in real life: