Chromie, Medivh coming to Heroes of the Storm
Updated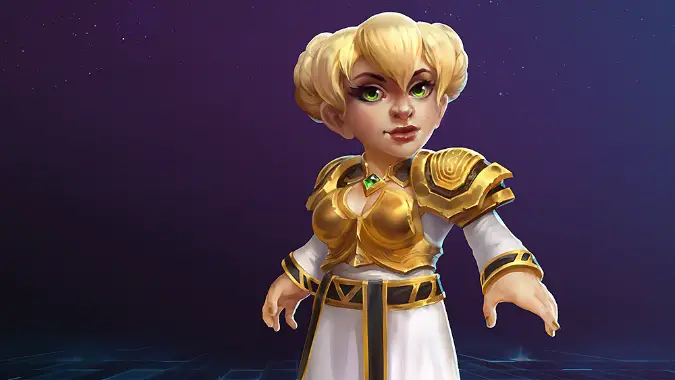 Heroes of the Storm has teased its new heroes throughout the week, with the official announcement expected tomorrow. However, the preview video for these new heroes (as well as new mounts and skins) leaked on the Brazilian Heroes of the Storm YouTube account before being swiftly removed. The cat is out of the bag, though, and there's no putting it back in: Chromie and Medivh will be the latest additions to the Nexus.
Update: Blizzard has officially confirmed Chromie, Medivh, and the new skins and mounts. All the details are below.
Update 2: KendricSwish just published ability and talent video previews for both Chromie and Medivh. Both are embedded below and their abilities are listed.
Chromie
Chromie will be a ranged assassin with Blizzard says "some of the highest kill-potential in the game" — so we imagine she comes with a pretty high skill cap. The video shows her playing  primarily with damaging abilities backed up by a powerful snare. She'll be arriving in-game in just a couple of weeks on May 17.
Chromie ability and talent video preview:
Timewalker (Trait): Chromie gets her abilities one level earlier than other heroes.
Sandblast (Q): After 1 second, fire a high damage blast that damages the first hero hit. Does not damage minions, turrets, mercenaries, etc.
Dragon's Breath (W): After 1.5 second delay, deal high damage to all enemies in an area. There is no indication to enemies where the damage will land.
Time Trap (E): Place a Time Trap that Stealths after 2 seconds. The first enemy Hero to touch it will be put into Stasis for 2 seconds. Only 1 trap can exist at a time.
Slowing Sands (R1): Place a sand vortex that greatly slows enemies inside it. The longer it is active, the more it slows up to 50% after 5 seconds. 4 mana per second to maintain.
Temporal Loop (R2): After selecting an enemy Hero, that Hero will be teleported back to their location after 3 seconds.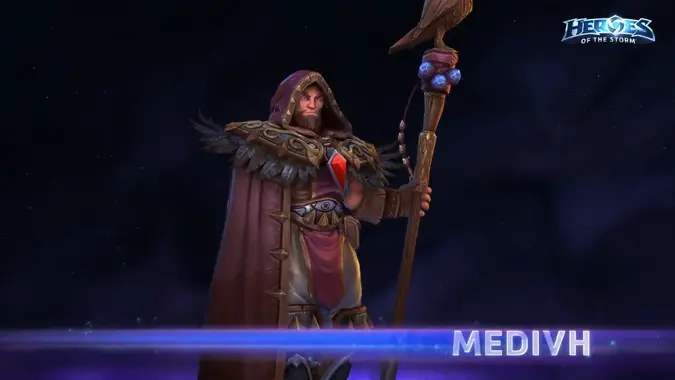 Medivh
Medivh will be a ranged specialist based around disrupting the enemy team. The video shows him opening a dark portal to provide his team mobility across otherwise impassable terrain, casting a polymorph which chained to nearby targets upon expiration, and a using powerful directional stun which hit all enemies in its path. And because the ability to open a literal dark portal on command isn't enough, Medivh can also shapeshift into an invulnerable raven. He'll be landing in the Nexus (see what we did there?) on June 14, just in time for Warcraft movie fans to get into the game.
Medivh ability and talent video preview:
Raven Form (Trait): Medivh can transform into a raven becoming completely immune and bypassing terrain.
Arcane Rift (Q): Launch an arcane bolt that damages and pierces enemies in a line.
Force of Will (W): Briefly protect an allied hero from all damage.
Portal (E): Create a link between nearby locations that allies can pass through.
Poly Bomb (R1): Poly Bomb a target that will spread Poly Bomb.
Ley Line Seal (R2): Release a line of magic that disables enemy heroes.
In addition to these new heroes, a number of new skins were revealed — some of which belong to these new heroes and a pair of new skins for existing heroes.
Fel Queen Chromie Chromie takes on a distinctly fel green tint, which could easily be confused for a goblin rather than a gnome
Eagle Eye Tyrande A comic book-themed skin in line with Super Sonya
Widowmaker Nova Nova cosplaying Widowmaker, as seen in Tracer's trailer
The video also unveiled Elemental Wolf, Epic Elemental Wolf, and Hell Billie mounts. The former are wolves with elemental crystalline accents and the latter is the familiar Billie goat in a demonic variant — perfect for Fel Queen Chromie.
[envira-gallery id="39623″]