WoW
May 11, 2016 3:00 pm CT
Beware of Legion beta scams
The Legion beta is about to begin which means the scammers are going to be out in force, so it's time for our regular reminder: don't fall for scams! Fortunately, scams aren't difficult to avoid as long as you don't let your beta excitement overwhelm your good sense.
First, while Blizzard will send you an email saying you have beta access, it won't include a beta key (or any mention of one). Don't click anything that says "click here to get a beta key!" because beta keys simply don't exist — your account will be flagged for access. On top of that, Blizzard will never ask you for your username, password, or any other personal information. Don't enter this sort of information anywhere except Battle.net.
If you realize just a little too late that you've clicked on something you shouldn't have, head over to Battle.net and change your password immediately. And, whether you've misclicked or not, it's always a good idea to use Blizzard's mobile authenticator and set up SMS protect for extra security.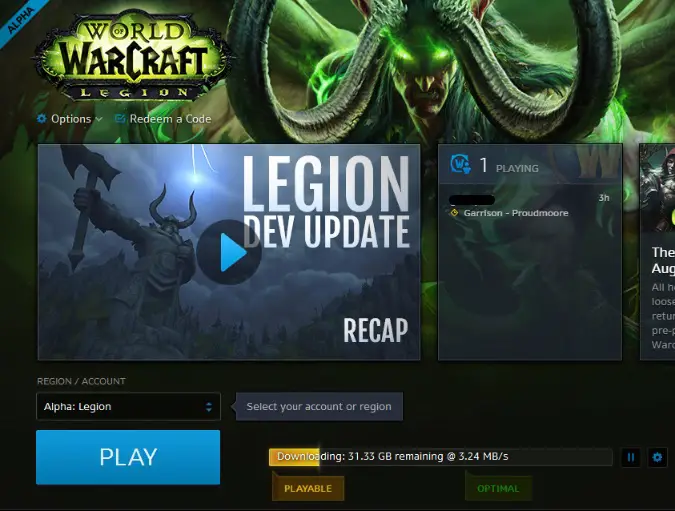 So how do you tell if you've been invited to the beta? Fire up the launcher. Under the drop-down menu (just above the "play" button) you'll find an option labeled "Alpha: Legion." (And, yes, while still flagged as alpha, this is the beta.) Since the download is over 30GB — remember, the Legion system requirements say you need 45GB — it's not a bad idea to check and start that download if you do have access.
If you don't have access to the launcher (say, you're at work when you're reading this), you can check your Battle.net account online. Under "Your Game Accounts" you'll see a second WoW PTR listed — WoW1 is the regular PTR, but if you see a second PTR with any other number, that's the beta client.
Even if you haven't gotten an email, check to see if you have access. While we haven't heard of emails being sent out, a number of accounts have already been flagged for beta access.
Good luck and happy testing, everyone!