Get Ready: Here's when Overwatch is launching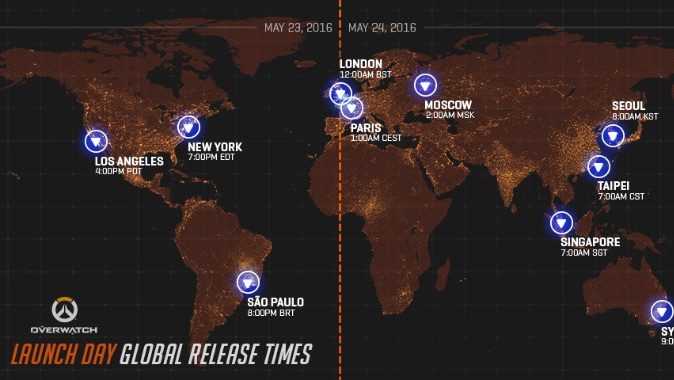 So you've pre-ordered Overwatch and you can't wait for next week's launch. (Unfortunately you have to wait: that's just how time works.) But are you ready for release day? We have the release times in each region plus some tips to help you get in the game just a little bit faster.
If you can't keep track of just when the Overwatch servers will come online, here's the timezone by timezone breakdown
Europe:
00:00 BST on May 24
01:00 CEST on May 24
02:00 MSK on May 24
Americas:
4:00 p.m. PDT on May 23
5:00 p.m. MDT on May 23
6:00 p.m. CDT on May 23
7:00 p.m. EDT on May 23
8:00 p.m. ADT on May 23
8:00 p.m. BRT on May 23
8:30 p.m. NDT on May 23
7:00 a.m. SGT on May 24
9:00 a.m. AEST on May 24
11:00 a.m. NZST on May 24
Asia:
7:00 a.m. CST on May 24
8:00 a.m. KST on May 24
8:00 a.m. JST on May 24
To be ready to go when the game launches, make sure you download your client early if you bought it digitally. On Windows, that means firing up the Battle.net launcher and letting it download or patch your client. For PlayStation 4 and Xbox One, the client will start to download automatically if you have it set up to do so. Otherwise, PS4 owners need to navigate to the PlayStation Store, search for Overwatch, and then click to start the download. Xbox One owners need to go to "My games & apps," find Overwatch in the game tab, and then click to start the download.
And if you've ordered a physical copy, be sure to pick it up as soon as possible — there will still be an install process, and you'll want to get it started before the servers come up!
When release day finally does come around, if you're looking for some gameplay tips take a look at our beginner's guide, escort mode guide, control mode guide, and assault mode guide. Good luck out there, heroes!