Book Review: Uprooted by Naomi Novik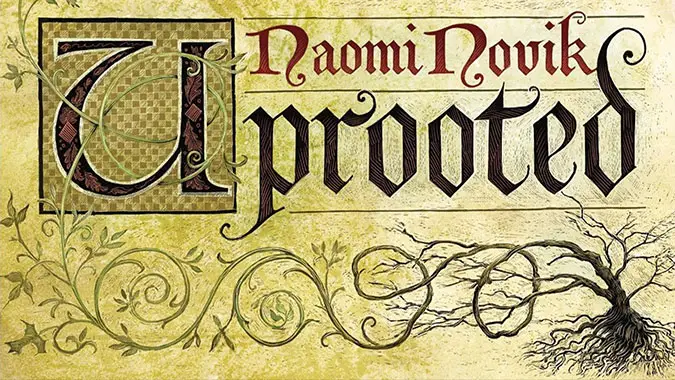 An enchanting novel that pulls from folktales of Eastern Europe and shapes them into a story of loyalty and love. Plus, it just won a Nebula award. It's that good.
Naomi Novik is an author who was previously best known for her Temeraire series. If you haven't read them, imagine England during the Napoleonic Wars, except with dragons. Novik's most recent novel, Uprooted has a similar sensibility, grounding itself in enough historical detail to feel extremely believable but adding magical elements to a world whose inspiration lies in a fairy tale version of Poland. Uprooted has been garnering some recent accolades – it's been nominated for a Hugo award for Best Novel and just last week it won a Nebula award. If you enjoy speculative fiction grounded in folklore, you're going to want to check out Uprooted. Don't worry if you've been meaning to read it, I've kept this review spoiler free!
The story of Uprooted follows a young peasant girl from the village of Dvernik in the land of Polnya, named Agnieszka. Her life so far would have been happy, except for the looming threat of two disasters. First, her village lies not far from the border of the oppressive Wood, a corrupt and mysterious forest. Their valley is fortunate enough to have a local wizard who helps to protect them from the Wood and its influence, but not without a price. Every ten years, the wizard, called the Dragon, takes one seventeen year old woman to serve him in his tower. Agnieszka is part of the group of "eligible" women in the year that the story begins, but everyone knows that the Dragon will choose her lovely, brave and intelligent best friend Kasia. Except that he doesn't.
"Our Dragon doesn't eat the girls he takes, no matter what stories they tell outside our valley. We hear them sometimes, from travelers passing through. They talk as though we were doing human sacrifice, and he were a real dragon. Of course that's not true: he may be a wizard and immortal, but he's still a man, and our fathers would band together and kill him if he wanted to eat one of us every ten years. He protects us against the Wood, and we're grateful, but not that grateful."
Uprooted is a thoroughly enchanting story. It's the kind of book that feels as if you've known it all your life, or that it's been passed down for generations. Agnieszka is an engaging heroine – she's clumsy and imperfect but also has the audacity to dare to persevere despite her faults, or even because of them. Uprooted presents the reader with a very believable and established world. We believe it, and the characters believe it, but there are layers of deception and assumption that contribute to the story's strength. Each revelation will have you turning the pages faster, determined to find out what happens next.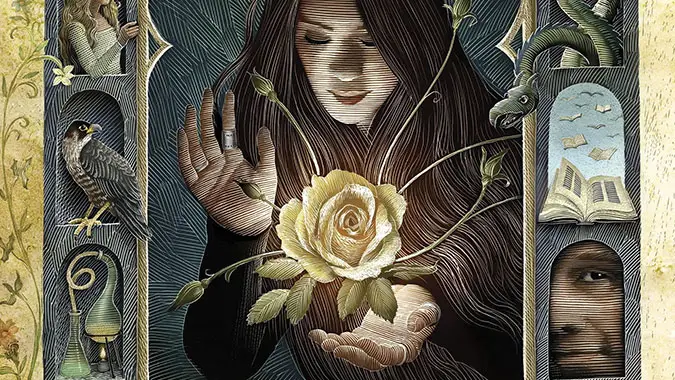 This book is at its best when it focuses on the scope of the small details that make it feel so real. Vivid descriptions of the environments and the people in them keep it visceral and authentic. This includes details of the food being eaten and the clothes they wear, but not in excessive or arbitrary detail. I found it to be just enough. Novik is obviously a diligent researcher, and her careful inclusions help the story to feel real. When a wizard casts a spell, the words are actually real, although not English. I did a bit of searching and found that the magic spells in the book are an amalgam of Finnish, Hungarian and Estonian.
I did feel that Uprooted had some pacing issues. The first part of the book is too action-packed, not giving the reader quite enough time to settle in to the initial smaller scope of the story. Later, towards the middle of the book things really lagged and it could have been tightened up. Overall, this is a fairly minor complaint. The entirety of the story is still satisfying, it just would have been nice to slow down in some parts and lighten what felt like a slog in others. Another criticism is that some of the extended cast of supporting characters can feel a little flat and as a result their relationships aren't always as well-realized as others in the book. Although fairy tales often use these obvious character tropes, I felt that they could have benefited from better characterization.
I respected Uprooted's willingness to tackle many subtle and difficult feelings along with the meat of the narrative: hurt, revenge, friendship, envy, loyalty and love. Ultimately, that's why this is such a compelling story. Its themes are universal and the way it handles them is a delight. Novik's writing is delicate and true, but punchy when it needs to be. Although it's a fairy tale style book about magic, wizards and witches, and encroaching evil, it's also a book about home – both where we came from, and where we choose to be.
I highly recommend this book if you're a fan of fairy tale style fantasy novels, engaging female protagonists, or historical fiction with a magical bent. Naomi Novik's lovely book deserves a place on your shelves.
Uprooted can be purchased as a paperback or hardcover, ebook or audiobook at Amazon. There's even a few different audiobook versions if you'd like to choose a narrator and you can sign up for 30 free days of Audible. If you don't have the Amazon Kindle app for your mobile device, you can download it for free. Blizzard Watch makes a small commission when you buy the book in any form from the above Amazon link, download the free Kindle Reader App or download the free trial of Audible, so consider supporting our site through any of these ways.