WoW
Jun 22, 2016 3:00 pm CT
Catch your Qiraji Guardling battle pet while you can!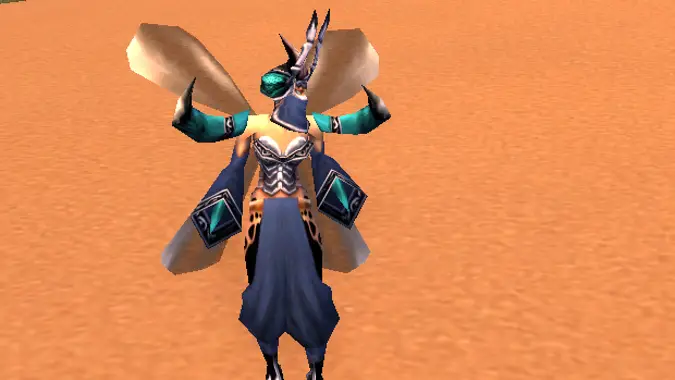 Ah, summer! When blue skies and warm weather call you outdoors to … wait, the thermometer reads what? Okay, what I meant was that summer is a great time to stay indoors and play video games. And Blizzard knows this, luring us to our computers not just with that pleasantly frosty name, but also with the summer-only Qiraji Guardling battle pet which just started spawning in Silithus.
So what do you have to do to catch this magnificent flying creature? And just why should you bother? We can help with those questions.
For pet collectors who haven't picked up this little guy, the "why" is pretty easy: because it's there! The Guardling is an easy add to your collection as long as you remember to grab it this summer, so why not? Achievement hunters should also note the guardling is a requirement for the Kalimdor Safari achievement (as its winter-only counterpart the Snowy Owl) and the World Safari meta achievement and the Zookeeper title. Plus if you're trying to work your way up to the So. Many. Pets. achievement, you'll want every possible battle pet to bolster your count.
It helps that the Qiraji Guardling isn't terribly hard to catch… though guardlings may be a bit scarce right now since they've only starting spawning which means everyone's just remembered they need to get one. But the guardling will be available through September, so there's no need to rush… so long as you'll remember to pick up this pet before then.
Head down to the Scarab Wall in Silithus to find this guy — and remember to pack your Terrible Turnip to make any pet easier to catch! You should find plenty of them buzzing around, but if you're having trouble this video from HazelNuttyGames should help. If there's lots of competition, just remember that you can always grab a poor quality one for the achievements and boost its quality at your menagerie later, so don't drive your fellow pet hunters insane by trying to catch every one that spawns!
Good luck, pet hunters!