Nova is competitive in Heroes esports?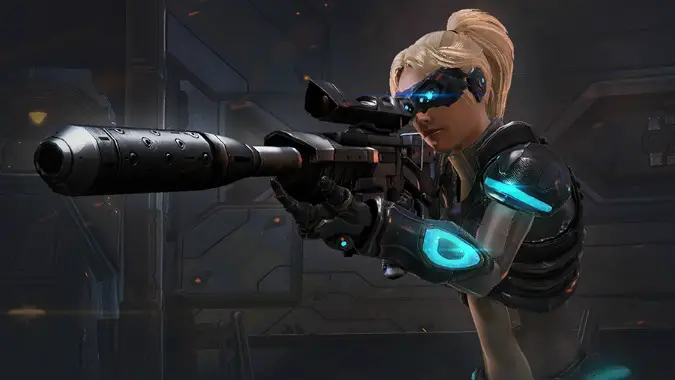 With Europe's oddly scheduled Dreamhack Valencia regional qualifier winding down well before this goes to print, most of the world's Heroes of the Storm competitive scenes are relatively sleepy this week. There's a VOD from Valencia on the official Dreamhack Heroes stream to watch if you missed it to fill the gap.
However, there's still a hotly contested qualifier out of the North America region. After a huge surprise draft pick floored the competitive scene there last week, it's a region prime for unorthodox, exciting matches. Here's a look at that pick, plus your schedule for competitive Heroes of the Storm action this weekend.
One of the biggest, weirdest pieces of news to come out of Heroes esports this past week: Nova officially entered the competitive arena. No, I'm not making this up.
Faye normally plays ranged assassins, but even so this surprise draft pick gave her newly formed team High Score quite a bit of prestige–doubly so for choosing Nova in their last game to clinch a qualifying ticket for the fall regional coming up August 5th. Former Tempo Storm player Kaeyoh was one of the casters for this match and he has a thorough breakdown of how and why this unique choice worked so well for High Score. If you watch the full VOD including the draft, you may be able to hear the exact moment where he and his co-caster Dreadnaught lost their minds over this pick.
Here's hoping this doesn't change up the casual meta too much.
Crescendo, the team formed by part of the Cloud 9 backbone, was also able to qualify for the upcoming Burbank fall qualifier in August. This weekend we'll see the second open qualifier for this event, starting at noon CST on Sunday July 17th. Solid Jake is streaming this cast on his Twitch, though it's likely we'll see a few other streams too. This is far from a sure thing, as the central NA esports drama for this week centered around Khaldor's stream from last week. There's still quite a large field hoping to earn their ticket to Burbank so personally I'd rather see more matches than fewer.
There's another Latin America qualifier on Saturday July 16th at 2 p.m. CST. It's over on the official Copa America Twitch stream. This week sees the North region compete again, with Brazilian qualifiers through the coming week as well. Those games are on Monday and Tuesday at 6 p.m. CST.