Auriel whips the Nexus into a healing frenzy
Updated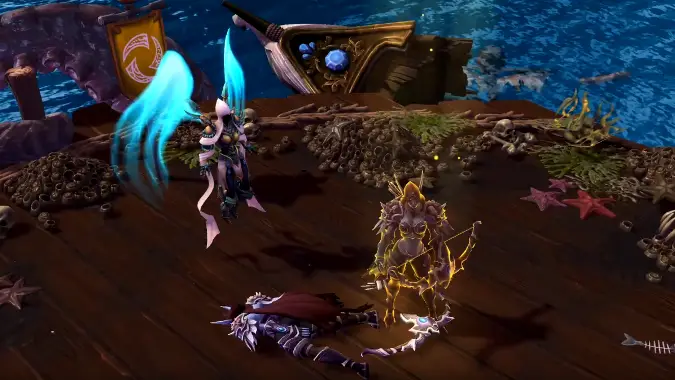 Update: Auriel is now available to play on the PTR. Check out the PTR patch notes for changes to Kael'Thas, Tracer, and more.
Heroes of the Storm released Auriel's official hero spotlight earlier today and it clears up a few essential mechanical details. We were all initially unsure how her resurrection mechanic would function given heroes' corpses can ragdoll across the map. Pointing and clicking at a corpse simply wasn't a realistic method of rezzing someone. As it turns out, Auriel will see ghosts of dead allies at the spot where they bit the dust, and it's from that ghost she resurrects her allies. Further, it appears she isn't 100% reliant on allies for generating Energy for her heal. From what's shown in the spotlight, her own damage contributes to her Energy level, too.
Personally, I'm eager to find out which of her ultimates well become the go-to choice once Auriel is live. Resurrection is a powerful ability given it can bring someone back from the dead, but Crystal Aegis could prevent the death altogether. But as we've seen with Dehaka, going into stasis won't necessarily save you. The follow-up damage needs to be sufficient to stop opponents from circling like vultures, waiting for stasis to drop. With Resurrection, as long as Auriel herself doesn't get ganked, she can bring someone back into the fold no matter what. And toward the end of the game, when death timers are at their longest and most painful, Resurrection becomes an even more powerful tool.