WoW
Sep 14, 2016 5:51 pm CT
Patch 7.1's Karazhan attunement requires ilevel 850 followers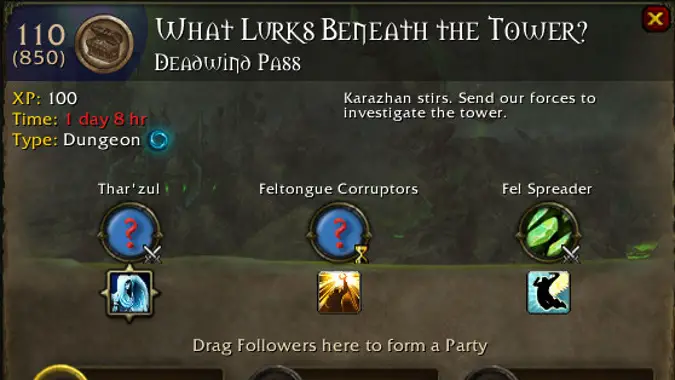 Note: This information was based on early PTR datamining, which is always open to change or misinterpretation. Karazhan attunement does not require a follower mission. The post as originally written remains below.
Patch 7.1 hit the PTR this evening and includes numerous changes, tooltip updates, and miscellania — but most important, it's the patch which includes the updated Karazhan dungeon. Before you can run the dungeon, you must be attuned, and attunement involves an ilevel 850 Order Hall mission. If, like me, your followers in the live game are all still below ilevel 800, we have some work to do before patch 7.1 goes live. Of course, the attunement requirements aren't the only Karazhan details in the PTR build.
The Karazhan boss encounters are a blend of new and old, eliminating some notorious nuisances and bringing a new Legion twist to the table. The in-game Dungeon Journal lists the following encounters:
Maiden of Virtue
Opera
Attumen the Huntsman
Moroes
The Curator
Shade of Medivh
Mana Devourer
Viz'aduum the Watcher
Shade of Medivh directly replaces Shade of Aran, including the infamous Flame Wreath. Datamining suggests the new Attumen the Huntsman will continue dropping his mount — rather, an updated version of it.
Two Karazhan-themed mounts so far! https://t.co/QxrHKPkheG pic.twitter.com/CnCnYhgcZj

— Wowhead (@Wowhead) September 14, 2016