The Queue: Let us Disqus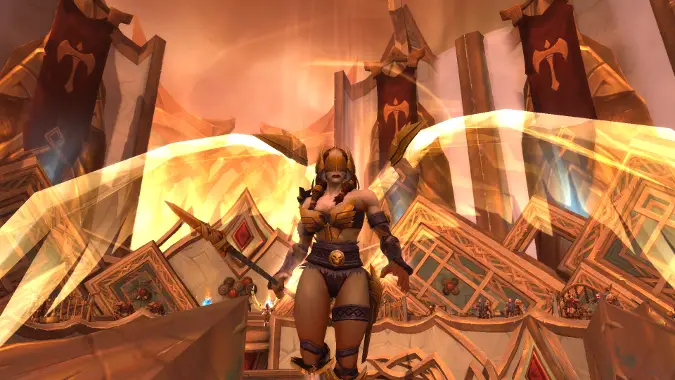 Welcome back to The Queue, our daily Q&A feature for all of Blizzard's games! Have a question for the Blizzard Watch staff? Leave it in the comments!
If all goes according to plan, today will be our first edition of The Queue using Disqus for our comments rather than Livefyre. We hope you'll enjoy the new platform!
---
LUNTHO ASKED:
Do you feel that this is finally the expansion where you can do what you want to do, minus player housing *shakes fist*. I feel like I can either play an hour a day, all day or leave the game alone for a couple of days and not be far behind everyone else. It finally feels to me like they've got the balance of hardcore and relaxed gameplay near perfection.
At the moment, I do feel that way, yeah. I don't feel pigeonholed into doing content I don't like, but am still faced with difficult choices about what I want to do from day to day. Do I want to knock out all of these world quests? Do I want to dive into a mythic? I want to play an alt, but am I willing to miss out on the potential rewards from the current active world quests? They're difficult choices about how I spend my time, but regardless of what I choose, I won't be overly punished for making the wrong choice, however you define "wrong." I find that to be far more compelling than what previous expansions offered at endgame.
---
ORRINE ASKED:
What's your experience with Legendaries? I'm kind of disappointed because I've got Norgannon's Foresight, but it's pretty useless to me because I'm Fire Mage with a ton of instant casts and Ice Flows. I get to use a proc no more then 3 times during the fight. So it's just a stat stick without crit that simply raises ilvl.
I'm playing an Arms Warrior and I got Archavon's Heavy Hand, so… I'm pretty happy with legendaries, personally! I lucked out, because I'm pretty sure it's the best possible legendary for an Arms Warrior.
---
ELIZA OTQ SAID:
I'm still not used to the daily reset happening at 10am server. It's weird to wake up at the butt-crack of dawn, get a bunch of housework done, sit down to relax with hot tea and breakfast, and realize that you still have to wait an hour for holiday dailies and the WQ emissary faction.
I didn't mean to roll out of bed that early, but I have a toddler.  /yawn
I'm having the same problem, honestly. In Warlords, my routine was to play a little bit while I drank my morning coffee, then I'd be awake enough to start my workday. And then I'd play a little more in the evening. Now, if I play at all in the evening, I don't have an emissary in the morning, so I don't want to touch any of my quests without knowing who I'm going to get. 10 a.m. is a truly bizarre time for a reset and has thrown my routine for a serious loop.
---
VORKEN5 ASKED:
Any ideas on why Blizzard changed procedure with the Dalaran Hearthstone? The Dalaran Hearthstone is actually the teleport spell, not a hearth. The garrison Hearthstone was a hearth, and the base model including "The Innkeeper's Daughter" is a hearth.
As a paladin, this is a huge deal, as you can't bubble-teleport, only bubble-hearth.
I don't have an answer for this, but I wanted to mention it bugs me, too. Especially when I'm in a situation where I want to hearth, but I'm stuck in combat with something but can't find whatever it is I'm in combat with. I try to use the Dalaran hearth, it doesn't work because I'm in combat, so I use one of my other gearthstones to get out of combat, then use the Dalaran hearth. It's all very silly and I don't understand why the Dalaran Hearthstone doesn't work like any other Hearthstone we have.
---
SHUANNA ASKED:
When was it the fiery orbs above a fire mage could be turned off – was it with 7.1 or is it possible right now? I have enough artifact power to drop half on arcane and half on fire, but I don't like the swirly things.
That's coming in patch 7.1. That's when Shadow Priest s regain the ability to turn off Shadowform, too. I'm glad they're doing it, because people have taken issue with these since beta — the particle effects on the Fire Mage orbs and Shadowform intruded on first-person view, meaning you had to change your spec to take a simple screenshot. Seriously a nuisance.