How to get hidden Artifact appearances for Demon Hunters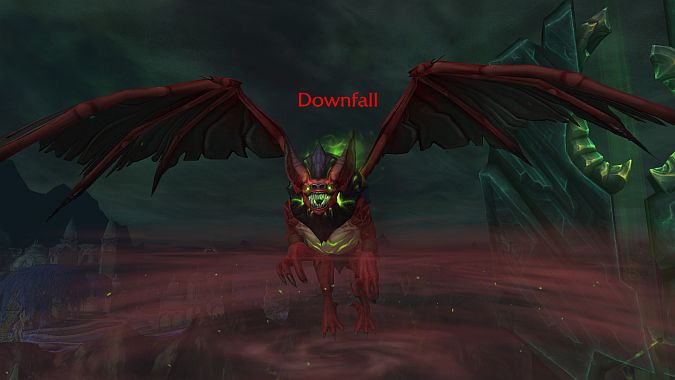 If you've been paying attention to the WoW-sphere lately, you may have noticed that various hidden Artifact appearances have begun to surface. And while I touched briefly on all the different Artifact appearances for Vengeance, it's worth officially diving into the specifics for how to unlock the hidden appearances for both of Demon Hunters' specs. Thankfully, it's not too complicated!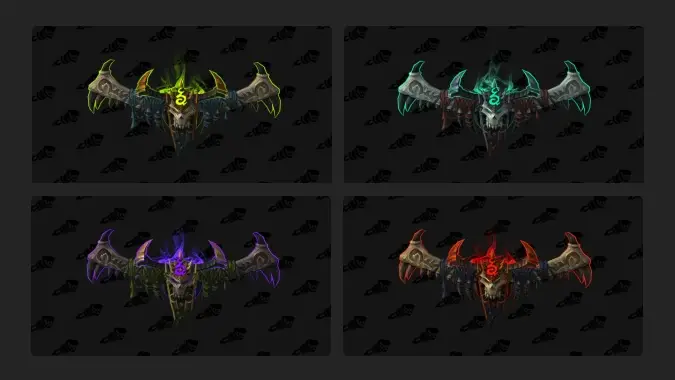 Unlocking Havoc's hidden Artifact appearance
If you want to unlock the hidden appearance for Havoc, the single biggest hurdle is going to be that acquiring it requires Artifact Knowledge level 5. Once you've reached that level of Artifact Knowledge, all you technically have to do it kill Downfall, who is hanging out in the skies above Felsoul Hold in Suramar.
Now, the intended way to do this is to kill enemies in Suramar and wait for them to drop Candrael's Charm. You then will take this charm to Candrael Twinshadow who casually throws you into the air toward Downfall. Winds surround this particular felbat which allow you to eschew "fight or flight" in favor of doing both at the same time! Kill Downfall, loot Guise of the Deathwalker, and enjoy your new appearance!
As I said, that is the intended way to unlock this appearance. There is, however, an easier way that (at least for now) hasn't been nerfed in any way. You still need to have Artifact Knowledge level 5, but you can skip the tedious mob grind by flying from Dalaran — or a high peak on the Broken Isles –and making sure you're aimed at Downfall's location. The Emerald Winds toy will help if you're having trouble, but as long as you can find your way to Downfall, killing him is technically the only requirement to unlock the hidden appearance.

Unlocking Vengeance's hidden Artifact appearance
Unlike Havoc's hidden appearance, Vengeance's doesn't require any particular Artifact Knowledge level to unlock. Instead, you need to have chosen Twisting Nether as your Tier 2 Order Hall upgrade and make sure to kill the bosses in there at least once per day.
Doing so will give you a chance at looting the Bulwark of the Iron Warden, which unlocks the hidden appearance for Vengeance. The hardest part here, really, is RNG. The drop is not guaranteed and the bosses will only give you loot once per day; however, the non-appearance loot is still valuable. Over on Wowhead, user TegoZanduba compiled a list of all the potential drops — most of them will help you while out in the Broken Isles, but there is also a pet that you'll want to keep an eye out for.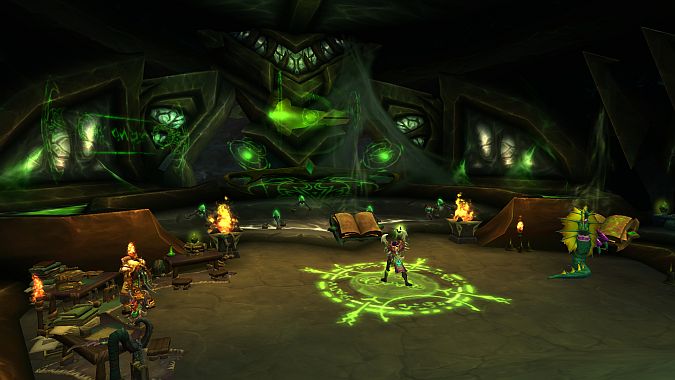 How to unlock the hidden appearances' additional colors variants
If you're looking at the above appearances and one particular color variant sticks out to you, then I have good news or bad news, depending on your interest in grinds. Every single hidden Artifact appearance's extra color tints are unlocked the same way — it doesn't matter what class or spec you are, it's all done the same! The caveat, however, is that each tint requires grinding a particular aspect of the game and, more importantly, that grind has to be done with the Artifact weapon equipped — thankfully, it appears that this is character-specific and will not need to be done for each Artifact weapon!
As for the tints themselves, they are unlocked in the following ways:
Tint 2: Complete 100 dungeons while a hidden appearance is active — /run AddTrackedAchievement(11152)
Tint 3: Complete 200 World Quests while a hidden appearance is active — /run AddTrackedAchievement(11153)
Tint 4: Kill 1,000 enemy players while a hidden appearance is active — /run AddTrackedAchievement(11154)
Note the commands listed after each. These will allow you to see the otherwise-hidden values for each particular tint in order to track your progress. (Fair warning, the dungeon command can be a little buggy.) And if you'd prefer, there is a WeakAura that will neatly track all three at once. It may say it's intended for Demon Hunters, but that other Priest columnist assures me it will work for all classes.
See, easy peasy! Unless you hate grinds… then it's annoying pannoying.