Celebrate Blizzard's 25th anniversary at BlizzCon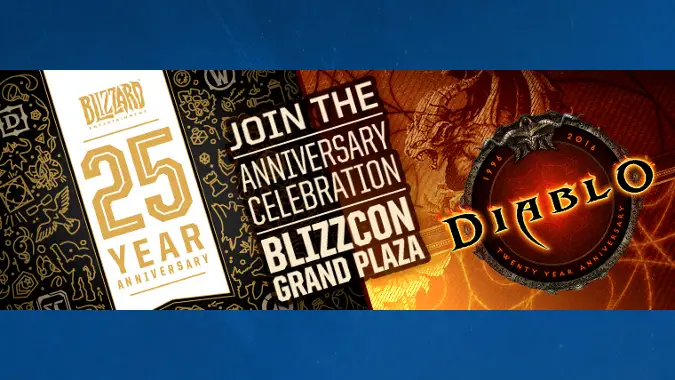 BlizzCon 2016 will be celebrating two Blizzard milestones: Blizzard Entertainment's 25th anniversary and the 20th anniversary of the Diablo franchise. Friday, November 4 from 8 p.m. until 10 p.m., BlizzCon will spill out into the Anaheim Grand Plaza to party hard in Blizzard's honor.
An Epic Night of Live Music
The main stage at the celebration will feature BlizzCon Talent Contest winners Songhammer performing live—so grab some armor from your closet and get ready for an epic rock show.
When:
Friday, November 4, 2016 from 8 p.m. through 10 p.m. PT
Where:
Anaheim Convention Center Grand Plaza
Open space between Marriott and Hilton outside BlizzCon—no BlizzCon ticket required!
What:
Performance by Songhammer
Specialty beverages celebrating Blizzard's 25th and Diablo's 20th anniversaries
Food Trucks
Epic Fun
You'll be celebrating the occasion alongside a fun-filled crowd of game developers, staff, and a swarm of fellow Blizzard gamers. You won't want to miss a moment of this special event—we can't wait to see you there!
This event sounds exactly like the party held for the 10th anniversary of World of Warcraft back in 2014. If  so, BlizzCon attendees shouldn't expect much structure — it's music and drinks in a communal gathering place. And if drinks (or food) are indeed what you're looking for … expect lines that don't go anywhere quickly. However, because this is an outdoor event, you don't need a BlizzCon ticket to attend. If you're in the Anaheim area and want to join in on the celebrations, you're welcome to do so.