WoW
Dec 21, 2016 4:55 pm CT
Patch 7.1.5 micro-holiday dates announced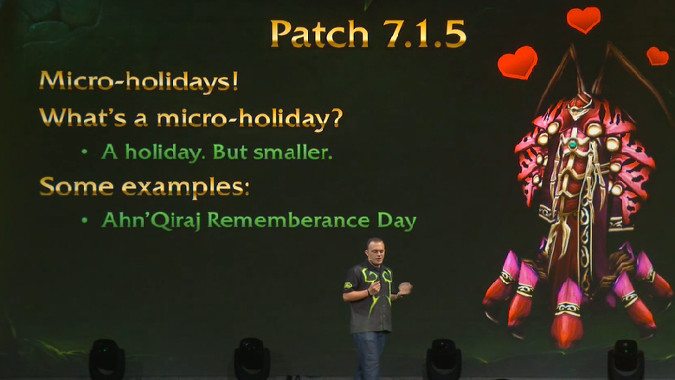 Micro-holidays for World of Warcraft were announced back at BlizzCon 2016 and they've been in testing on the PTR in recent weeks. However, we didn't know exactly when they would take place until now. Blizzard has listed all of them, along with a short description of the holiday, over on their official website. A quick rundown of the dates are as follows:
January 21-23 Call of the Scarab: On this date, the Scarab Gong was rung, opening the gates of Ahn'Qiraj. Represent your faction by gathering supplies or by slaying Twilight and Qiraji forces. The winning faction gets to fly their banner next to the Scarab Gong for the rest of the year!
February 23 Hatching of the Hippogryphs: Those who head to Feralas will be able to bear witness to the yearly hatching of the hippogryphs. You may even make a little friend for the day.
April 5 March of the Tadpoles: Each year, the Winterfin murlocs allow their tadpoles free reign over their village. You can make a difference by adopting your favorite, feeding it, and protecting it from nearby predators.
April 28 Volunteer Guard Day: Step into the shoes of a guard in the major cities with a /salute and you'll get to serve and protect the city just like them. Stay vigilant and watch out for any invaders.
May 10-12 Spring Balloon Festival: Several of Azeroth's characters – some of whom you might recognize – are giving tours of Azeroth in their hot air balloons. You'll enjoy their commentary and interact with other citizens as you take in the scenery.
May 27 Glowcap Festival: Head to Sporeggar in Zangarmarsh, collect some rare mushrooms, and help the sporelings heal the great mushroom, Fshoo. You'll gain a bit of Sporeggar reputation for helping them out.
June 6-8 Thousand Boat Bash: Thousand Needles is where the biggest bash on boats can be found in Azeroth. It's a chance to unwind a little, away from the lurking danger of the Burning Legion.
August 10-12 Un'goro Madness: Dinosaurs are running amok in Un'Goro. Help quell the rampage and you'll be awarded some temporary evolution buffs.
These micro-holidays aren't meant to be a big deal, but rather small events intended to make the game world more lively. If you miss any given event, you'll miss out on minor rewards at best — maybe some toys, but (as far as we know), nothing you won't be able to get the following year. Blizzard has specifically stated there will be more micro-holidays to come; this is just the first batch. The latter half of the year will undoubtedly receive its own micro-holidays, too.