Heroes shows off Zul'jin's skills and skins, plus new Dream Genie Chromie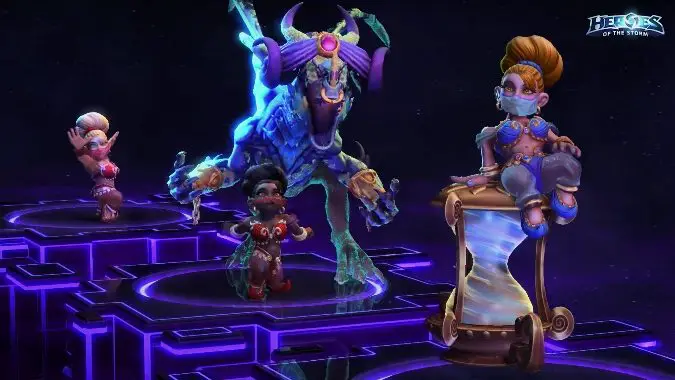 In the latest preview video from the Heroes of the Storm team, we finally have a good look at Zul'jin in action, complete with skills and skins. In case you haven't been following, this ranged Assassin is due to be the game's next hero, and could arrive as early as next week. Here's a rundown of his skills (all of which you can see in the preview video):
[Trait] Berserker
Zul'jin gains 1% Attack Speed per 1% of missing Health.
Zul'jin can activate Berserker to increase the damage of his Basic Attacks by 25% at the cost of 2% of his maximum Health per attack.
[Q] Grievous Throw
Zul'jin throws a jagged axe forward, dealing damage and causing the enemy to take additional damage from his next 3 Basic Attacks.
[W] Twin Cleave
Throw 2 axes in a large circular arc, dealing damage and slowing affected enemies by 15% per axe for 2 seconds.
[E] Regeneration
Zul'jin channels to regenerate 25% of his maximum Health over 4 seconds. Moving or taking damage while channeling will interrupt this effect.
[R1] Taz'dingo
Zul'jin is Unkillable for the next 4 seconds, and cannot be reduced to less than 1 Health. Taz'dingo!
[R2] Guillotine
Zul'jin throws a massive guillotine into the sky that crashes down on enemies in the targeted area. The lower Zul'jin's Health, the more damage it deals.
But Zul'jin isn't the only new content coming to Heroes, and the epic Dream Genie Chromie skin has us saying "Zul-who?" And, for my part, I hope this is the first skin from another of Heroes' odd alternate universes. But so far, Chromie is all we've got. In addition to Chromie's new look, there will also be Emberlord Zul'jin, Bronze Tiger Kharazim, and the Zul'jin-themed Amani War Bear mount.
There isn't a release date for any of this just yet, but we expect Zul'jin to go live within the next week or two with all of his skin variations — and likely the Amani War Bear, too, since it fits the theme. As to the new Chromie and Kharazim skins, they could show up any time, so keep your eyes peeled.