Roadhog Chain Hook nerf coming to Overwatch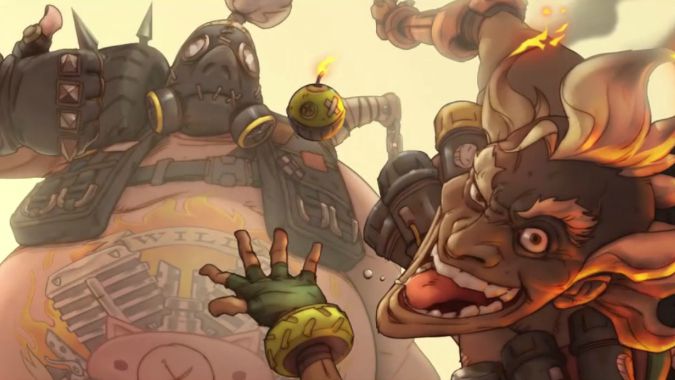 Some incoming nerfs in Overwatch feature welcome changes for anyone who isn't playing Roadhog. Roadhog's Chain Hook ability will now better detect line of sight, and won't be able to toss players off cliffs (probably). If you've played against a good Roadhog before, you know that Chain Hook can do some crazy line of sight things, pulling you down to Roadhog even if you can't see him. As you can see in the video below, it's something that's tough to defend against. You can't just be out of line of sight, you need to be way out of line of sight.
Part of the problem is that the game currently checks line of site from the hook's position, rather than Roadhog's position — and that's going to change. Checking line of sight from Roadhog's position means you at least you know it's coming (unless you let him creep up behind you). On top of that, you'll soon be able to break away from the hook if you move out of line of sight quickly, giving you escape options rather than just giving Roadhog an easy kill. And for players who have had Roadhog hook them and then spin around to toss them off ledges, Chain Hook will now move you to a position in front of Roadhog, limiting his ability to toss you around.
The Overwatch team plans to push these changes to the PTR as early as this week, and will keep an eye on Roadhog's performance to be sure the adjustments don't hit him too hard. Check out the full blue post below for all the details.
Coming soon! In fact we plan to have it up on the PTR asap (might be this week).
For a bit of tldr; for what the changes are:
Firstly, the hook victim will now move in to the position directly in front of Roadhog, rather than just a straight line towards him. There is a cap on how far 'to the side' you can be pulled, so you can't just hook someone, spin 180, and dump someone off a cliff. This part (along with some other bug fixes) should generally make the hook feel more consistent as to where the victims get pulled.
Secondly, the line-of-sight check to see if a hook should connect or not is now checked from Roadhog's position, instead of the hook's position. This basically means the hook can't connect to targets that Roadhog himself can't see.
Lastly, there is a new persistent line-of-sight check back to Roadhog once the hook has landed. If this check fails, the hook breaks off and returns to Roadhog. This means if you get hooked and move out of LOS quickly (either you dashed, were falling, were pushed, etc), the hook will now break early and not pull the target.
Overall these changes will likely make Roadhog a bit weaker, but we'll evaluate his performance once we get people playing him and make adjustments as necessary.