WoW
Jan 23, 2017 3:46 pm CT
Pick up your very own dragon costume from WoW's Lunar Festival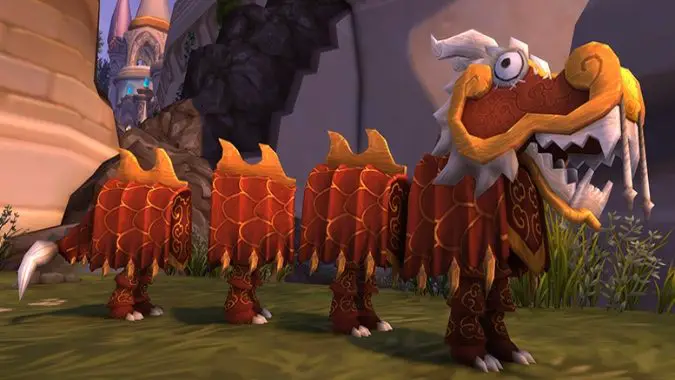 If you've done the Lunar Festival before, this year's event is no different than the past. The bulk of the event is a trek around Azeroth to visit elders and collect coins. And once again there are no new elders, only the same old Eastern Kingdoms, Kalimdor, Northrend, Cataclysm, dungeons, Alliance, and Horde — at this point it feels unlikely we'll see the event expanded to cover Pandaria, Draenor, or the Broken Isles. The HandyNotes addon can help you easily find elders: just download HandyNotes and its Lunar Festival module to see every elder on the map.
But it's really about what you can buy with these coins, including festival-themed outfits, toys, pets, heirloom upgrades, and now a truly crazy dragon costume. The costume is split into three parts: the Dragon Head Costume (25 coins), Dragon Body Costume (10 coins), and Dragon Tail Costume (25 coins). A coordinated group of three or more makes for a whole dragon, which I hope to see parading around the game soon.
If the costume doesn't strike your fancy, the event isn't a terrible way to level alts. Though it's certainly not the most efficient way to go about it, each elder grants XP and a boost to all of your faction reputation (up to 5999/6000), so you can get a good boost to your core reputations if you don't have them maxed out already.
The event runs through February 4th this year, so if you want to grab a dragon costume of your very own, you have a couple of weeks to make it happen. For all the details, check out Wowhead's Lunar Festival guide.