The Queue: Another perfectly ordinary day in Stormwind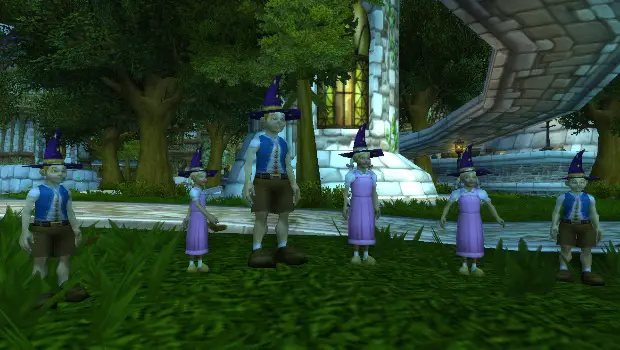 What? We're right where we're supposed to be. I don't know what you're talking about.
---
GALDWYNN ASKED:
Q4tQ: Should Heroes have guilds/clans?
Liz: To be fair, my first thought when I read that was, "It doesn't?" It's such a cooperative game.
Mitch: I'm not sure it needs them, to be honest. You can create your own chat channels if you really need to, and having guilds/clan would kind of just complicate Team League queuing. You don't need them now, and it still works somewhat off of a personal MMR, so guilds would mostly be for show. I guess it would be nice to see "Jun" instead of "TSJun" sometimes (Jun from Tempo Storm), but meh. I think it'd be superfluous. Plenty of "teams" have Discord servers, too. Guild chat cluttering up the chat logs mid-game wouldn't help anyone.
Liz: Trying to do this  For Azeroth event has made organization in Heroes seem rather haphazard. It's like vanilla WoW where you sit in town yelling LF1M UBRS until you find someone. Why not have in-game calendars, schedules, reminders, etc, like you do in WoW to keep a group organized?
Mitch: People underestimate the willingness of others to simply join your party after a random Easy AI match. I've finished a lot of HotS events because someone invited me after a random match and we just kept queuing. I think in-game that would just add to clutter, and any real communication would be better left to a Discord server.
Liz: Blizzard may be too late to the game (especially considering how sloppy the voice chat in WoW is), but cooperative games like this really should have some way to let people easily organize. In Heroes it seems to be left to third party tools. Maybe I'm just used to WoW.
---
ELIZA ASKED:
My main, who doesn't need it, has an option to buy level 10 Artifact Knowledge for 1k resources, I presume as a catch-up. My alts don't have that option. Do I need to unlock it first?
Mitch: The thing you're looking at is BOA, no?
Liz: That one's an easy unlock: run to the nearest mailbox to send to your alts! You can buy them based on your own level of Artifact Knowledge, but they're (as you can see) no use for your main.
Mitch: So yeah, technically your alts need to unlock it to be able to purchase it themselves without the use of mail, but it's intended as a main –> alts item.
Liz: Once alts are 110, they can use them. If your alts aren't at 110 and you're still collecting Artifact Knowledge on your main, wait until you hit 110 to buy and send it, so you're sending the biggest possible boost.
---
GINAC SAID:
Regarding the soul fragment Illidan quest requirement, I pretty much started playing again for this questline, since I'm an Illidan fangirl from day one. The closest I've come is 34/80. This is quite a load of ol' crap. More lore behind useless timegating — my enrage button has been pushed.
This needs to be changed ASAP.
Mitch: It's being changed to a requirement of 40 in 7.2. I agree, though, it's dumb the way they did it. It should have been that you can play catch-up every week. Maybe not all the way, but if you missed week one, being able to get 15 in week 2 instead of the normal 10.
Liz: I have to say, I was zooming through the Illidan quest chain, even though it was annoying me, and this one was a brick wall for my progress. It's hard to stay enthusiastic about running 80 dungeons. So 40 is better, at least…
Mitch: These are guaranteed (?) to drop the same number as whatever M+ you're running. So a +8 gives 8, for example. Get to Mythic+10 and it's only 8!
Liz: Ugh. Blizz does have a history of gradually dialing down gates like this, but it doesn't make them any less annoying in the meantime.
Mitch: agreed.
Liz: Uh oh, we're agreeing on things again.
Mitch: Blame Wednesday.
Liz: What did Wednesday ever do to you?!