The Queue: Return of the Monday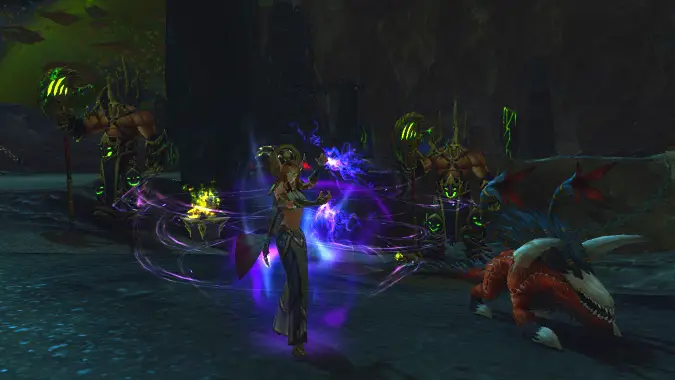 Welcome back to The Queue, our daily Q&A feature for all of Blizzard's games! Have a question for the Blizzard Watch staff? Leave it in the comments!
---
RALANOST ASKED:
How do you normally handle your altoholism? Do you switch alts frequently, often during the same play session? Do you play a bit as one and then trade off after a little? Or do you play a character exclusively for a long stretch before trying another character and getting invested in that one.
I wouldn't describe what I do as "altoholism" because it's more of the latter. I don't have tons of alts that exist simply to exist. I have a handful of alts. I don't try to play them all. I play the heck out of one character, and when it starts to bore me, I switch to a character that will offer something different. I'll play a character for weeks or even months before I do something else. If there's anything I continue trying to do on all of my max level characters, it's things like order hall missions. I might as well continue to harvest free gold as long as I have the resources and a spare 5 minutes in my day.
---
JOKER_VD ASKED:
I've personally settled long ago on what is mostly the classic Latin pronunciation rules for proper names (with exceptions for "J", "SH", "CH" etc. and some others) for all English-language franchise. Turns out the WoW localisers also seem to mostly follow this convention.
Does anyone has any idea why "Karazhan" is pronounced "Karazan" in English voiceover?
Because it's not English and the writers/developers aren't particularly concerned with linguistics. These are Azerothian words and, as we should all know by now with Warcraft, the only rule determining anything in Azeroth is the rule of cool. Does it sound cool? Does it look cool? Then that's how it works and nothing else matters.
Karazhan is spelled Karazhan because those wacky extra letters evoke arcane weirdness. It's aesthetic, not linguistic. Troll names in Azeroth often have an apostrophe in them and they're meaningless. In actual linguistics, that apostrophe indicates some alteration to pronunciation — maybe something like a glottal stop. In Warcraft, it doesn't indicate any such thing. Again, it's aesthetic. It's a visual indicator that a name you're seeing is most likely related to Trolls.
The only way to know how something is pronounced in World of Warcraft is to wait and see how the developers pronounce it. Maybe that's in voice over, an interview, whatever. But all of those fake, made up words are not English, or Latin, or any such thing. Maybe you can figure out most of them, but there's never a point where Blizzard's spelling or pronunciation of them can be "wrong" because they invented them.
---
GALDWYNN ASKED:
What's your method of making gold in Legion? I find myself WoW poor these days after buying tokens off the AH, and I need a way to make some more gold.
Order Hall missions and World Quests. Slow and steady wins the race. I don't expect to make fat stacks in a weekend, but I slowly, steadily, and consistently build up a larger stockpile. I also don't buy anything in WoW, which is why I'm glad I can put most of my gold toward Heroes of the Storm now. There's nothing available for gold in WoW that appeals to me at all. I already have the very few mounts I enjoy using. I don't care about battle pets. My characters all have their One True Transmog. I don't do any high-end raiding anymore, so I don't need any consumables, and my repair bills are low.
All my gold goes straight to my Blizzard Balance for sweet, sweet Heroes skins.