Con Before the Storm at BlizzCon 2017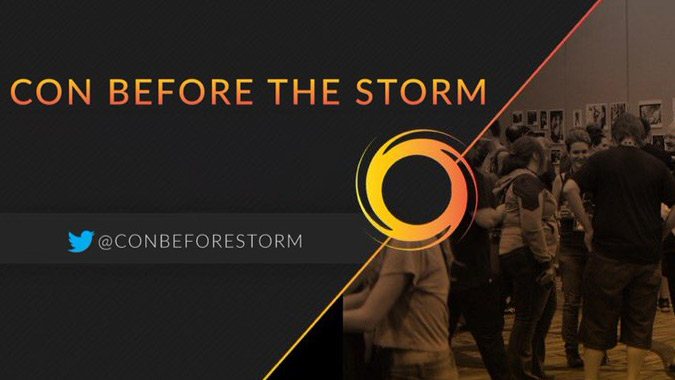 Editor's Note: Vee is an organizer of Con Before the Storm. We've given her permission to discuss the party on our site due to her firsthand knowledge of the events and its happenings.
"Party." That word has either gotten you super excited, or triggered some social anxiety, or maybe a little of both. But you don't have to worry, I promise. This party is organized by a bunch of fans — most of us are outgoing, welcoming, downright cheerful people. We'll approach you with — probably — lots of hugs. The podcasters, artists, and fan sites that are involved are here specifically to meet you, too… and while I can't speak for them, I bet they have lots of hugs, too.
If you're worried about being awkward and not knowing how to meet people, don't worry. Most of us are awkward, too! We are all in this together and we just want to throw a party and have a genuine good time. It's like going to your friend's house and chillin'… just no Netflix. (But we do have other forms of entertainment)!
Speaking of that, what is there to do?
World of Podcasts
One of the original aspects of this event, World of Podcasts, features your favorite podcasting personalities and streamers live on stage.  Previous guests have included The Angry Chicken, The Instance, All Things Azeroth, Darkmoon Herald, and many more.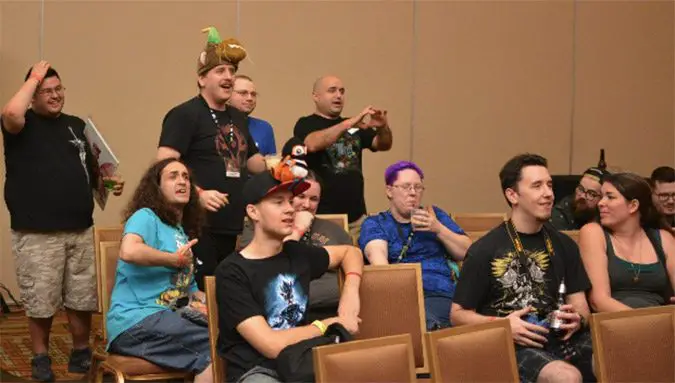 Remember what I said about not worrying about fitting in?  I'm not really sure what was going on during this podcast panel, but it sure looks like the audience is having fun. There is a guy in a ridiculous (but awesome) hat and I kind of want to be his BFF now. He looks like he has good stories to tell, right? And the guy to his left (our right) – I think he's either mental-instagramming or explaining a complicated geometry problem. I kind of want to hear his life story now too, or follow him in instagram! Everyone in this picture is having fun, and I would enjoy chatting with any one of these people.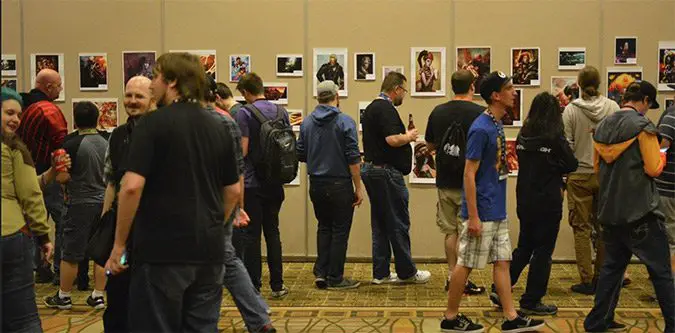 Fan Art Gallery
This is something I started 4 years ago as a little side project for the party that turned out to be a giant attraction. We reach out to about 100 artists every year and get permission to feature 1 or 2 pieces of their Blizzard art, live at the party.
It's a pretty huge undertaking : First we scour the internet for cool art, contact the artist, and get permission. Then we organize it, print it, attach the artist name-card to it, ship it, display it, then give it away. Yes, we give it all away. In fact, you get to choose a few favorites and enter to win, so when we pick your name, you get something on your list. It's a fun moment, watching people's faces light up knowing they won. I've even seen some people get tears in their eyes, which makes me get tears in my eyes. Maybe someone has hidden onions or something, that must be it.
We walked in and my gf was like holy smokes you won. I thought she was just trolling me but nope! Top pick too!
-Josh, 2016 winner of Reaper by Guzzardi.
Meet and Greet:
Finally, our meet and greet room, which has hosted previous guests such as Pamela Horton, Bajheera & Warcraft Jen, Michele Morrow, Elvine, Blizzard Watch writers, and more. These community personalities will be hanging out at autograph tables to chat, sign goodies, and have a good time hanging out with everyone.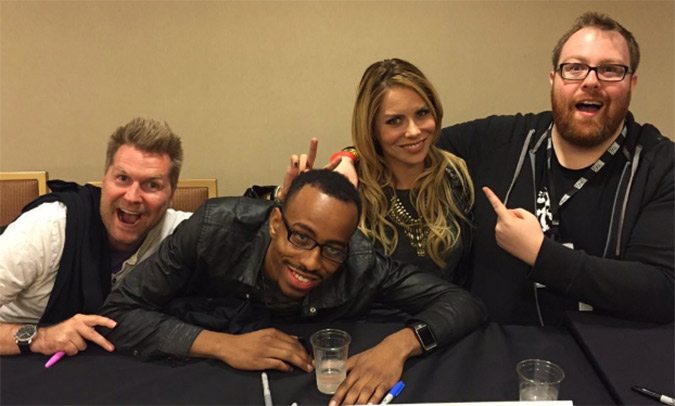 Of course we have other fun things to check out, like a photo booth with props, prizes, games, drinks, a face painter, and all sorts of things to entertain you on the Thursday night before BlizzCon, at the Hilton.
Kickstarter – The community makes this possible every year!
For the last four years, Con Before the Storm has happened because of the generosity of this community. We usually get about 200 backers who help make this entire night fun and inclusive for a few thousand people.
You can be one of the handful of people who contributes to lasting, happy memories for so many other people, just like you. A place to unleash all of our game-specific discussions that would seem completely odd in a "normal" public forum. A place to connect with others, no matter how extroverted or introverted we are. A place with lots of laughs and new friendships to last a lifetime. You can be the person who helps make this party happen so that ridiculous-hat guy can come back, or the mental-instagrammer can take more mental snapshots. You can help people win art that they will have hanging in their homes as a constant reminder of a darn good time. You are key to making this happen, and every year we are astounded at the generosity of the community.
We are well on our way to a full-funded event (as of this writing, we are about 90% funded on Kickstarter).  For our 2017 campaign, we have teamed up with many talented artists and believe this is our best campaign yet. Tiers this year include badge art made by Eggdishes and Chewiebaka, a Twitch overhaul by Skog Designs, and our popular Art Gallery Tier, which guarantees you a piece of art to take home from our gallery!
We believe that, with your help, we can not only hit our funding goal ($14,000), but go above and beyond to hit our stretch goals, which include adding an additional room for Frogpants and Amove.tv to host their annual meetup. Like I've said before, this is a party by fans, for fans, so we would love to hit that goal and host some meetups in extra rooms!
Thanks for taking the time to check out our event – both the Kickstarter and in person!  If you are going to BlizzCon this year, please come by our event and say hello, check out the art, meet new friends, listen to podcasters, and give us all hugs.  See you in Anaheim!