HGC Crucible, HCT Americas finals and more esports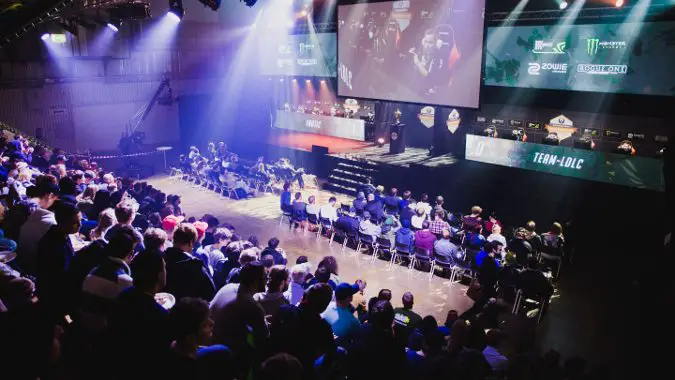 Something fun I've noticed covering all these Blizzard esports for a while is they tend to sync up. It makes sense with big events like Dreamhack Jönköping, that most esports would want to hold their finals there. However, it makes for a work environment where things are either boring or my hair is on fire. This week, things are relatively ho-hum, but I'm just looking at my calendar in three weeks and stockpiling coffee.
Here are the last few events we're watching leading up to Jönköping.
Conveying the two main feelings for this next match – hype, and seriousness. @GFeSports vs @Team8HotS now! pic.twitter.com/N9T8QlsJ7x

— Gillyweed | Jaycie Gluck 💙 (@GillyweedTV) May 21, 2017
Heroes of the Storm
HGC Crucible Saturday and Sunday EU at 11 a.m, NA at 2 p.m. NA CDT, streamed to BlizzHeroes on Twitch.
The HGC Crucible this week pits the best ranked teams from the Open League against the worst from HGC. The winners take spots in HGC next year, while the losers go back to the Open League.
While we're watching last-ranked teams try to keep their spot in the league this week and waiting on the top-ranked teams to attend the Brawl next week, the rosterpocalypse for the teams in the middle has begun. Gale Force Esports was in a rocky spot this split, trying for a weird team makeup with four flex players and no dedicated tank which frequently led to cheesy drafts and weird plays. To try to smooth this out and hopefully place better next split, they cut Equinox and Khroen.
Both seemed to struggle this split, but they were frequently forced into new roles, especially Khroen. He made his name on amazing back line mage play, but was often forced to play tanks. Here's hoping they both land on new squads which can better use their talent. Goku left Superstars this morning, so expect the roster churn to continue.
No friends #overwatch #sombra #widowmaker pic.twitter.com/WrpyoV1ZZF

— A-KA/阿卡 (@A_KAchen) May 21, 2017
Overwatch
When Overwatch League finally forms, the newly announced Overwatch Contenders sets the stage for a feeder league. However, since the only other thing happening right now is really APEX, the competitor list includes juggernauts of esports like Immortals and CLG facing off against teams named Choccy Milk or Straight Out Of Comp Queue. It'll be a great way for players signed to existing squads to get noticed by the big money Blizzard's been trying to court for the League, but as a fun diversion for fans it leaves something to be desired for now.
You can pinpoint the moment his tension disappears and he realises he's going to Shanghai. Congratulations @Hoej_Hs!https://t.co/RU2IshpMV2 pic.twitter.com/uF2r9VVDEj

— Hearthstone Esports (@HSesports) May 21, 2017
Hearthstone
Hearthstone Global Games Tuesday 3 a.m. CDT, Wednesday 9 a.m. PDT, Thursday 8 p.m. CDT, streamed to PlayHearthstone on Twitch.
HCT Americas Spring Playoffs Saturday and Sunday at 10 a.m. CDT, streamed to PlayHearthstone on Twitch.
The HCT Europe Spring championship played out last weekend. Hoej won the whole thing, so he and the three runners-up are headed to Shanghai for the global championship in July. This week, players from the Americas region face off to join them.
Blizzard changed their rules about which region certain countries belong to for the new upcoming Wild ladder tournament.
Alternative image. 😁 pic.twitter.com/RAGqil3l6S

— StarCraft (@StarCraft) May 23, 2017
StarCraft
WCS Challenger Finals NA Friday and Saturday 3 p.m. CDT, streamed to StarCraft on Twitch.
GSL Code S Fridays 11 p.m. CDT Tuesdays 4:30 a.m. CDT, streamed to GSL on Twitch.
StarCraft patch 3.14 brings a new announcer pack. A staple of esports casting, Artosis and Tasteless, aka Tastosis, were honored to enter the game.